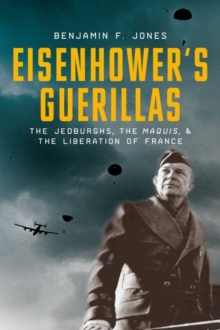 Eisenhower's Guerillas : The Jedburghs, the Maquis, and the Liberation of France
Hardback
Description
In the run-up to the invasion of Normandy in June 1944, General Dwight D.
Eisenhower faced a series of seemingly insurmountable dilemmas.
Outnumbered and desperate for any advantage to make their way past the well-defended beaches and into France, the Allies had reached out to French guerillas and partisans to help secure their aims-but transforming the highly independent resistance groups into a governable body and fighting force was a formidable task.
To makematters more difficult, President Roosevelt refused to give full Allied support to Charles de Gaulle and his Free French government, and would not supply the timing, location, and other key details of Operation Overlord.
It was into this storm of political mistrust and military confusion that Eisenhowersent the Jedburghs.
Eisenhower's Guerillas tells the story of the reconnaissance and intelligence teams of young Special Forces, called Jedburghs, who worked behind enemy lines to strengthen the Allies' position in Northern France.
Their task of organizing and training the French operatives, already monumental, was made more difficult by the fact that France's war aims were profoundly different from those of America and Britain, who regarded France as merely a military objective on the way to defeatingGermany.
Ben Jones describes how Eisenhower learned how to exploit this political turmoil to his advantage, and explores how the Allied Jedburgh teams still managed to coordinate French guerrilla operations within the overall plans for the country's liberation.
Underscoring the critical and often overlooked part that irregular warfare played in Allied operations on the Continent, Jones delivers a riveting story of the battle for France and the political complexities that threatened to undermine the operation from within.
Information
Format: Hardback
Pages: 400 pages, 15 b/w; 5 maps
Publisher: Oxford University Press Inc
Publication Date: 10/09/2015
Category: European history
ISBN: 9780199942084