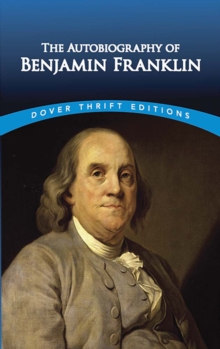 The Autobiography
Paperback
Information
Format: Paperback
Pages: 144 pages
Publisher: Dover Publications Inc.
Publication Date: 07/06/1996
ISBN: 9780486290737
Other Formats
Paperback from £6.09
Hardback from £9.05
EPUB from £2.40
Paperback / softback from £4.50
Free Home Delivery
on all orders
Pick up orders
from local bookshops
Reviews
Showing 1 - 4 of 4 reviews.
Review by SeriousGrace
16/06/2015
Originally written as a letter to his illegitimate son, Benjamin Franklin sets out to tell the story of his life's work. It briefly covers his childhood but focuses more on his years of employment, first as a printer's apprentice, then as a prominent political leader among many, many other things. By the end of it you will be asking what <em>didn't </em> this guy do? However, it ends (abruptly) before his involvement in the Revolution or his efforts to free slaves, two aspects of his life I find most interesting. Peppered throughout the autobiography is Benjamin Franklin's adamant call to humility, modesty, and virtue which is humorously contradictory for a man with such a long list of obvious accomplishments.
Review by Hantsuki
16/06/2015
If you think you know Benjamin Franklin from what they taught you in school, you should read his autobiography and be enlightened. In fact, did you know this man invented the autobiography? You think of Benjamin Franklin as this old fat rich white guy who you may have heard was kicked out of France for being too rowdy. Of all places, he was kicked out of France. How do you get kicked out of France? Only Benjamin knows how. Now you might also feel scornful of him because his pretty face is on the $100 bill you're having a hard time keeping tabs on, and you have to hear time and time again about how great this guy is and how he's one of America's founding fathers. We get it. But do you know how he managed to get so great? Would you believe this man went to grammar school for less than a year and yet he was able to be so successful? Not that my point is: "Hey, if Benjamin Franklin became famous without having to suffer in the prison-like schools, why can't anyone else do the same?" No. By all means, stay in grade school until you graduate. The reason why Benjamin was so successful is because he was auto-didactic, that is, he was self-taught. He would take out a book and copy the writing word for word until he could imitate it and develop his own writing style. Now that's dedication. This man believed in the quality of hard-work, and he believed that anyone could climb to the top if they work hard enough. Sound familiar? Now if any of the above information piques your interest, go read about the great inventor and one of the successful men in the world.
Review by cwflatt
16/06/2015
My first look into the early life of a famous American. I always knew he was a printer, but never fully understood how much his profession played a roll in his life. As a printer and a Mason I hope to follow Ben as a great American.
Review by kakadoo202
16/06/2015
oh my. what an unlikable guy this benjamin unles you are a workoholic. he refused to play chess with his friend because it takes time away from his studies? he never stopped to smell the roses it seems. a sad life.
Also in the Dover Thrift Editions series | View all