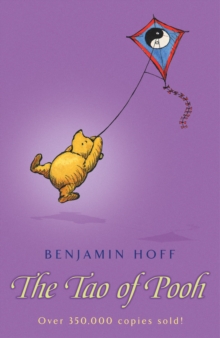 The Tao of Pooh
Paperback
Description
Winnie-the-Pooh is `The Bear for all Ages', and now he's more fun than ever before.
Join in The Tao of Pooh! Winnie-the-Pooh has a certain way about him, a way of doing things that has made him the world's most beloved bear, and Pooh's Way, as Benjamin Hoff brilliantly demonstrates, seems strangely close to the ancient Chinese principles of Taoism.
Information
Format: Paperback
Pages: 176 pages, illustrations
Publisher: Egmont UK Ltd
Publication Date: 01/01/2003
Category: Oriental & Indian philosophy
ISBN: 9781405204262
Free Home Delivery
on all orders
Pick up orders
from local bookshops
Reviews
Showing 1 - 5 of 6 reviews.
Previous | Next
Review by bluetyson
16/06/2015
A complete waste of time. I suppose it is a whimsical idea to use Pooh to explain the version of philosophy that you favor. Others might term this exploitative. In fact, there is probably a comic in there somewhere, The Revenge of Pooh, where pragmatic realistic toys with weapons come and kick the stuffing out of wacko writers.
Review by hearthfirecircle
16/06/2015
Excellent way to learn the basic principles of Taoism in a fun not "overly academic" way! Great stuff on the principle of non-action and the uncarved block.-Mary Beth
Review by pussreboots
16/06/2015
The Tao of Pooh is an odd mixture of literary criticism and philosophy. Hoff uses the A. A. Milne books to deconstruct the writings of Lao-tse. In turn he deconstructs Lao-tse's Tao Te Ching to reconstruct Milne's books. Orchestrating this exchange of ideas is the author as he converses with Pooh and the other characters from the Hundred Acre Woods. By "Bisy Backson" chapter, Hoff's thesis runs out of steam. "Bisy Backson" goes from being a clever mixture of criticism and allegory to just being a disconnected rant about the evils of modern life. For a more interesting cautionary tale on this subject, I recommend Momo by Michael Ende. To get the most enjoyment out of The Tao of Pooh, savor the first five chapters, skim the next two and then go back to savoring at "Nowhere and Nothing."
Review by qaphsiel
16/06/2015
This book was very disappointing. While there is some wisdom in it - slow your life down, try to live more harmoniously, etc - this had way too much of the "don't try, just let things happen and it will all work out" message that was present in Coelho's "The Alchemist."(Maybe Hoff was channeling Coelho when he wrote this.) However what I found most deplorable was Hoff's flat out repudiation of science. His reasoning for this was ill-informed at best, willfully ignorant at worst; and, I'm quite sure he makes use of the inventions of science just as much as the rest of us. Science doesn't have all the answers concerning life, the universe and everything, but it has some (and clearly far more than Hoff bothered to educate himself concerning), and the number and quality of them is every-increasing.<br/><br/>If you want to read a useful book about engaging life and other people, get James Carse's "Finite and Infinite Games". It's a better book, better written and doesn't hypocritically tell you to ditch the very thing that made mass distribution of it possible.<br/><br/>
Review by qaphsiel
16/06/2015
This book was very disappointing. While there is some wisdom in it - slow your life down, try to live more harmoniously, etc - this had way too much of the "don't try, just let things happen and it will all work out" message that was present in Coelho's "The Alchemist."(Maybe Hoff was channeling Coelho when he wrote this.) However what I found most deplorable was Hoff's flat out repudiation of science. His reasoning for this was ill-informed at best, willfully ignorant at worst; and, I'm quite sure he makes use of the inventions of science just as much as the rest of us. Science doesn't have all the answers concerning life, the universe and everything, but it has some (and clearly far more than Hoff bothered to educate himself concerning), and the number and quality of them is every-increasing.<br/><br/>If you want to read a useful book about engaging life and other people, get James Carse's "Finite and Infinite Games". It's a better book, better written and doesn't hypocritically tell you to ditch the very thing that made mass distribution of it possible.<br/><br/>