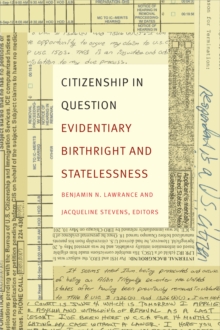 Citizenship in Question : Evidentiary Birthright and Statelessness
Paperback / softback
Description
Citizenship is often assumed to be a clear-cut issue-either one has it or one does not.
However, as the contributors to Citizenship in Question demonstrate, citizenship is not self-evident; it emerges from often obscure written records and is interpreted through ambiguous and dynamic laws.
In case studies that analyze the legal barriers to citizenship rights in over twenty countries, the contributors explore how states use evidentiary requirements to create and police citizenship, often based on fictions of racial, ethnic, class, and religious differences.
Whether examining the United States' deportation of its own citizens, the selective use of DNA tests and secret results in Thailand, or laws that have stripped entire populations of citizenship, the contributors emphasize the political, psychological, and personal impact of citizenship policies.
Citizenship in Question incites scholars to revisit long-standing political theories and debates about nationality, free movement, and immigration premised on the assumption of clear demarcations between citizens and noncitizens. Contributors. Alfred Babo, Jacqueline Bhabha, Jacqueline Field, Amanda Flaim, Sara L.
Friedman, Daniel Kanstroom, Benjamin N. Lawrance, Beatrice McKenzie, Polly J. Price, Rachel E. Rosenbloom, Kim Rubenstein, Kamal Sadiq, Jacqueline Stevens, Margaret D.
Stock
Free Home Delivery
on all orders
Pick up orders
from local bookshops