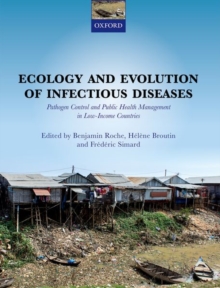 Ecology and Evolution of Infectious Diseases : Pathogen Control and Public Health Management in Low-Income Countries
Paperback / softback
Description
In recent years, the ecology and evolution of infectious diseases has been studied extensively and new approaches to the study of host-pathogen interactions continue to emerge. At the same time, pathogen control in low-income countries has tended to remain largely informed by classical epidemiology, where the objective is to treat as many people as possible, despite recent research suggesting new opportunities for improved disease control in the context of limitedeconomic resources.
The need to integrate the scientific developments in the ecology and evolution of infectious diseases with public health strategy in low-income countries is now more important than ever. This novel text uniquely incorporates the latest research in ecology and evolutionary biology into the discussion of public health issues in low-income countries.
It brings together an international team of experts from both universities and health NGOs to provide an up-to-date, authoritative, and challenging review of the ecology and evolution of infectious diseases, focusing on low-income countries for effective public health applications and outcomes.
It discusses a range of public healththreats including malaria, TB, HIV, measles, Ebola, tuberculosis, influenza and meningitis among others.
Information
Format: Paperback / softback
Pages: 334 pages, Over 50 illustrations
Publisher: Oxford University Press
Publication Date: 07/06/2018
Category: Personal & public health
ISBN: 9780198789840