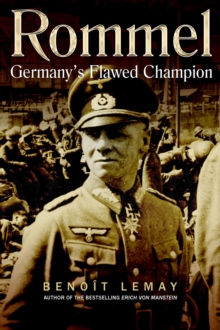 Rommel : Germany's Flawed Champion
Hardback
Description
Few modern military commanders have caught the public's imagination as much as Erwin Rommel, the panzer leader who constantly led from the front, achieving breathtaking success in France and North Africa.
More than 60 years after his death, Rommel still personifies the exemplary ideal of the German soldier, a figure who not only inspires respect for his mastery of warfare but for his reticent relationship with the Nazi regime.
In this book, however, Benoit Lemay sheds new light on the man.
Based on new research and the discovery of Rommel's private correspondence, Lemay places in question this legendary figure's relationship with the Nazi regime.
Contrary to the accepted belief that Rommel held serious reservations toward Hitler, Lemay instead asserts that the"Desert Fox" was in reality a dedicated partisan of the Fuhrer, to whom he remained loyal until the very end.
While Rommel's fame and image is in part due to Nazi propaganda, which made of him a "god of war" and a "son of the people," the British also did their part by hailing him as a "great general," in part to excuse their repeated defeats in North Africa. Relying upon international sources, Lemay provides a balanced portrait, discussing both Rommel's immediate post-war idolisation and the later interpretations excoriating him.
The final irony of Rommel's life was that he committed suicide after Hitler discovered that the German Resistance had hoped to elevate him as the new leader of the Reich, not realising that Rommel himself remained loyal to his Fuhrer.
Information
Format: Hardback
Pages: 528 pages, illustrated section
Publisher: Casemate Publishers
Publication Date: 15/06/2012
ISBN: 9781612000961
Free Home Delivery
on all orders
Pick up orders
from local bookshops
Also by Benoit Lemay