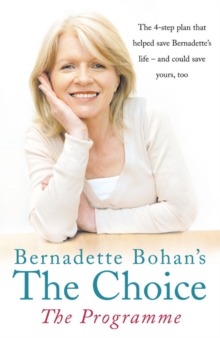 Bernadette Bohan's The Choice: The Programme : The Simple Health Plan That Saved Bernadette's Life - and Could Help Save Yours Too
Paperback
Description
Inspirational cancer survivor and seminar speaker, Bernadette Bohan, whose memoir, The Choice, was a Top 5 bestseller in Ireland, introduces her long-awaited recipe book and 4-point plan to help you turn around your health and fight disease the natural way.Bernadette Bohan, an ordinary wife and mother, decided to take her health into her own hands after twice getting cancer.
Her bestselling memoir, The Choice, is now followed by this invaluable cookbook and lifestyle plan.Bernadette explains her 4 point plan simply:* Point One: Juicing* Point Two: Clean water* Point Three: Power foods including the B17 foods, essential fats, enzymes, probiotics and sprouted seeds* Point Four: Safe personal care products such as non-toxic toiletriesThe book also includes inspiring case stories and 75 delicious recipes, written in conjunction with chefs from Cornucopia (Dublin's No 1 vegetarian restaurant):- juices, smoothies and soups- raw salads and stir-fries- sprouting your own green foods- other whole food recipes, organic and meat/dairy free
Information
Format: Paperback
Pages: 272 pages, Index
Publisher: HarperCollins Publishers
Publication Date: 01/05/2006
Category: Diets & dieting
ISBN: 9780007225514
Free Home Delivery
on all orders
Pick up orders
from local bookshops
Reviews
Showing 1 - 1 of 1 reviews.
Review by wyvernfriend
16/06/2015
Recently there have been several books on this theme. The idea that in fact it is the modern world and modern processing methods and diet that are causing people to become sick. And while I agree to a degree with this concept I'm not sure that it's the whole picture.Don't get me wrong, I'm sure it has sense and reason behind it but I also like my coffee and meat, and really don't see myself giving up either in any great degree anytime soon. I do intend to continue to improve my diet over time but I'm really not a person who is suited to an almost vegan lifestyle. This is not to say that if I had cancer again that I mightn't rethink my choices but that is where I am now.Bernadette Bohan had to make that choice, having had a lymphoma earlier in her career and then developing breast cancer she decided to make drastic changes and follow the Bristol Cancer Centre's diet which mostly consists of raw food.It's well written and she is passionate in her beliefs but it's just not me, not at this stage of my life.