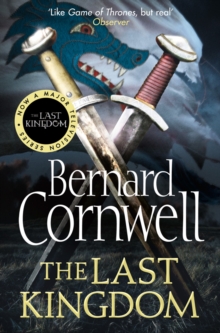 The Last Kingdom
Paperback
Description
The first book in Bernard Cornwell's epic and bestselling series on the making of England and the fate of his great hero, Uhtred of Bebbanburg.BBC2's major Autumn 2015 TV show THE LAST KINGDOM is based on the first two books in the series.Uhtred is an English boy, born into the aristocracy of ninth-century Northumbria. Orphaned at ten, he is captured and adopted by a Dane and taught the Viking ways.
Yet Uhtred's fate is indissolubly bound up with Alfred, King of Wessex, who rules over the only English kingdom to survive the Danish assault.The struggle between the English and the Danes and the strife between christianity and paganism is the background to Uhtred's growing up.
He is left uncertain of his loyalties but a slaughter in a winter dawn propels him to the English side and he will become a man just as the Danes launch their fiercest attack yet on Alfred's kingdom.
Marriage ties him further still to the West Saxon cause but when his wife and child vanish in the chaos of the Danish invasion, Uhtred is driven to face the greatest of the Viking chieftains in a battle beside the sea.
There, in the horror of the shield-wall, he discovers his true allegiance.The Last Kingdom, like most of Bernard Cornwell's books, is firmly based on true history.
It is the first novel of a series that will tell the tale of Alfred the Great and his descendants and of the enemies they faced, Viking warriors like Ivar the Boneless and his feared brother, Ubba.
Against their lives Bernard Cornwell has woven a story of divided loyalties, reluctant love and desperate heroism.
In Uhtred, he has created one of his most interesting and heroic characters and in The Last Kingdom one of his most powerful and passionate novels.
Information
Format: Paperback
Pages: 352 pages
Publisher: HarperCollins Publishers
Publication Date: 28/09/2005
Category: Historical fiction
ISBN: 9780007218011
Other Formats
Paperback from £6.89
EPUB from £3.49
Mixed media product from £28.25
CD-Audio from £16.35
eAudiobook MP3 from £6.79
from £18.65
Hardback from £56.15
Free Home Delivery
on all orders
Pick up orders
from local bookshops
Reviews
Showing 1 - 1 of 1 reviews.
Review by Nickelini
16/06/2015
Uhtred is the son of a 9th century Northumbrian lord, and is orphaned and taken hostage in a Viking attack. He becomes a pawn, and then double-agent, in the wars between the Danes and Alfred, King of Wessex. I've read a lot of historical fiction, and I've developed strong likes and dislikes in the genre. One of the things I strongly dislike is the endless battle scene, another is tiresome political maneuvering. This book is almost all one long battle. Also, The Last Kingdom is an entirely androcentric world, with a few females mentioned only as chattels or potential rape vessels. What did I expect, considering this novel is about Vikings? I expected more . . . I've read non-fiction about Vikings, and have seen numerous documentaries, and actually, they weren't at war all day, every day. And last I checked, the populations of both medieval England and Scandinavia were 50% female. I really wanted to hear more about their day to day lives, and not endless battles full of war strategy and bloodshed. Overall, I found this book to be a disappointing bore. <b>Rating</b>: Sorry, can't give it more than one star. I have no problem with the technical aspects of the writing, although there really wasn't much story arc--it starts with a battle, then there are some battles, and then it ends and the reader is supposed to go on to the next book in the series. <b>Recommended for: </b>Cornwell has an excellent reputation for well-researched novels, and I'm sure this one is no exception. It was just so very boring. I'm sure someone who doesn't notice when half the population is missing from a novel, and who likes reading action scenes will find this a good read. Obviously, I'm not the target audience for this one.
Also in the The Last Kingdom Series series | View all