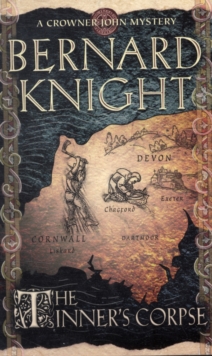 The Tinner's Corpse
Paperback
Description
When Crowner John is summoned to the bleak Devonshire moors to investigate the murder of a tin miner, he has little idea how difficult this new investigation will prove to be.
The victim is a trusted and well-loved overman of Devon's most powerful and successful mine owner, Walter Knapman.
There seems to be only one possible motive - to sabotage Walter's business.
But the tinners have their own laws, and they are none too pleased at Crowner John's interference.
Especially as their main experience of officials has been with Sheriff Richard de Revelle, whose notoriously high taxes keep them in a permanent state of fury and near rebellion. And then Walter disappears. Stephen Acland, Walter's business rival wastes no time in comforting Walter's beautiful wife Joan, who appears remarkably unmoved by her husband's disappearance.
Meanwhile, Walter's brother is going frantic with worry ... or could it be guilt? A decapitated body, a missing tinner, a disgruntled band of miners and a mad Saxon, intent on the destruction of all things Norman.
How on earth can Crowner John sort all this out when his wife hates him, his mistress has spurned him for a younger man, and his clerk is in the grip of a suicidal depression?
Only Gwyn, Crowner John's indispensable right-hand man seems to be of any help at all, until he is arrested for murder and put on trial for his life.
Information
Format: Paperback
Pages: 352 pages
Publisher: Simon & Schuster
Publication Date: 06/08/2001
Category: Crime & mystery
ISBN: 9780671029661
Free Home Delivery
on all orders
Pick up orders
from local bookshops
Reviews
Showing 1 - 1 of 1 reviews.
Review by juglicerr
16/06/2015
A general review of this series:This is back in the good old days of law enforcement, when trial by combat was definitive and would-be plea bargainers had to fight their accomplice(s) to the death.I find these books fascinating as living history, perhaps even more than as mysteries. Knight always starts off with a glossary of terms. The period is not romanticized, but neither is it overly repulsive. Sir John de Wolfe went crusading with Richard the Lionheart. Now back in England, he has been appointed to the newly reconstituted office of Crowner (Coroner). He fights a pitched battle with his corrupt, treacherous brother-in-law, the Sheriff, over official territory. He is very unhappily married to Mathilda, his incompatible wife; their relationship makes sleeping in peasant huts while on duty a treat. One of the things that makes it interesting, is that although Sir John is the central character, and presumably to be regarded with sympathy, his marital problems are not entirely blamed upon his wife.John is assisted in his duties by his gigantic man of arms, and his clerk, a frail, defrocked priest.In this volume, Sir John investigates the murder of a tin miner. Tin was the second most important export in England at this time, at the tinners had their own laws; Sir John's participation is controversial.
Also in the A Crowner John Mystery series | View all