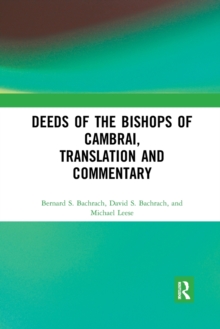 Deeds of the Bishops of Cambrai, Translation and Commentary
Paperback / softback
Description
First commissioned by Bishop Gerard I of Cambrai (1012-1051) in 1023 or 1024, the Gesta episcoporum Cameracensium was the work of two authors, the second of whom completed the text shortly after the death of Bishop Gerard.
The three books of the Gesta shed considerable light on the policies and actions of many of the key political and religious figures in an economically and intellectually vibrant region on the frontier between the German and French kingdoms.
The Deeds of the Bishops of Cambrai, translated in this volume into English for the first time, provides unique insights into the relationship between the German king and the bishops within the context of the so-called imperial church system, the rise of both secular and ecclesiastical territorial lordships, the conduct of war, the cult of the saints, monastic reform, and evolving conceptions of the proper social order of society.
Including extensive commentary, apparatus of explanatory notes, maps, genealogies, this text will be of considerable value both in undergraduate and graduate courses as well as to scholars.
Information
Format:Paperback / softback
Pages:256 pages
Publisher:Taylor & Francis Ltd
Publication Date:12/12/2019
Category:
ISBN:9780367880781