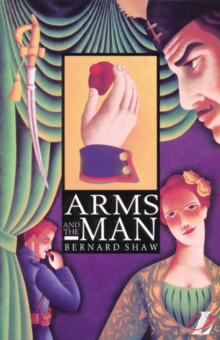 Arms and the Man
Paperback
Description
A soldier on the run climbs into Raina's bedroom. She shelters him, but then discovers that, unlike the heroic officer to whom she is engaged, he despises war and carries not ammunition, but chocolate.
When the 'chocolate cream soldier' reappears after the war, the consequences for Raina and her family are unexpected and amusing.
Information
Format: Paperback
Pages: 128 pages
Publisher: Pearson Education Limited
Publication Date: 30/09/1991
Category: English literature
ISBN: 9780582077850
Other Formats
Paperback / softback from £12.85
Hardback from £16.95
Paperback from £9.99
EPUB from £7.55
Free Home Delivery
on all orders
Pick up orders
from local bookshops
Reviews
Showing 1 - 1 of 1 reviews.
Review by dmsteyn
16/06/2015
This is the only play I have read or seen by Shaw, but I must admit to enjoying it immensely. It is one of two plays I am tutoring undergraduates on this year, the other being Oliver Goldsmith's She Stoops to Conquer, both of which are very funny, but I think Shaw takes the cake for thoughtful social commentary. Whereas Goldsmith still buys into the dominant social discourse of his times, Shaw lacerates the war-mongering ethos of his 1890's audience while retaining great dramatic and humorous momentum.The play is set during the Serbo-Bulgarian war of the 1880's, but this does not matter much to the plot. Shaw wrote the play without reference to any specific conflict; in fact, he did not even give his characters names, but filled in the blanks in the text after consulting one of his friends on recent historical conflicts. Raina Petkoff, daughter of a Bulgarian major, is betrothed to Sergius Saranoff, a rising star in the Bulgarian army and Shaw's representation of the overly-Byronic hero. When Sergius initiates a suicidal cavalry charge on the Serbian forces, he and his forces miraculously survive, as the Serbs ordered the wrong ammunition for their machine guns. The Serbs retreat through the Petkoff's home town, and one of their hired mercernaries, the Swiss officer Bluntschli, escapes by climbing the balcony to Raina's room. She manages to hide him from the advancing Bulgarian forces for reasons that are not initially clear, though an amatory grounds are hinted at. Bluntschli, who carries chocolates instead of ammunition, returns to the Petkoff's house after a peace treaty to thank Raina and to return her father's favourite coat. But Sergius and Major Petkoff also arrive, leading to intrigue and confusion...Shaw, a practicing Socialist, is often accused of writing polemics and dressing them up in plays, but that does not seem true of this play, at least. The juxtaposition of Sergius, who believes in military glory, with Bluntschli, who views war pragmatically, is interesting and well handled. I also enjoyed the way Shaw deflates romantic views of love by, for instance, exposing the hypocrisy at the heart of Sergius and Raina's relationship, which, though supposed to be predicated on the ideal of the 'higher love', actually rests on empty emotions and deceit. Shaw also has things to say about class relationships, which aligns him with Goldsmith, but as mentioned above, Shaw seems much more perceptive concerning these issues.The play is very funny, and has aged well. I look forward to reading more Shavian plays - God knows the man wrote enough of the things (more than 50!).
Also in the NEW LONGMAN LITERATURE 14-18 series | View all