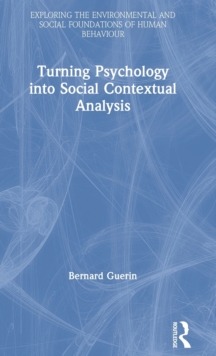 Turning Psychology into Social Contextual Analysis
Hardback
Description
This groundbreaking book shows how we can build a better understandingof people by merging psychology with the social sciences.
It is part of atrilogy that offers a new way of doing psychology focusing on people'ssocial and societal environments as determining their behaviour, rather thaninternal and individualistic attributions. Putting the 'social' properly back into psychology, Bernard Guerin turnspsychology inside out to offer a more integrated way of thinking about andresearching people.
Going back 60 years of psychology's history to the'cognitive revolution', Guerin argues that psychology made a mistake, anddemonstrates in fascinating new ways how to instead fully contextualize thetopics of psychology and merge with the social sciences.
Covering perception,emotion, language, thinking, and social behaviour, the book seeks toguide readers to observe how behaviours are shaped by their social, cultural,economic, patriarchal, colonized, historical, and other contexts.
Our brain,neurophysiology, and body are still involved as important interfaces, buthuman actions do not originate inside of people so we will never fi nd theanswers in our neurophysiology.
Replacing the internal origins of behaviourwith external social contextual analyses, the book even argues that thinkingis not done by you 'in your head' but arises from our external social, cultural,and discursive worlds. Offering a refreshing new approach to better understand how humansoperate in their social, cultural, economic, discursive, and societal worlds,rather than inside their heads, and how we might have to rethink ourapproaches to neuropsychology as well, this is fascinating reading forstudents in psychology and the social sciences.
Information
Format: Hardback
Pages: 162 pages, 9 Line drawings, black and white; 4 Tables, black and white; 9 Illustrations, black and w
Publisher: Taylor & Francis Ltd
Publication Date: 20/07/2020
ISBN: 9780367898106
Free Home Delivery
on all orders
Pick up orders
from local bookshops
Also in the Exploring the Environmental and Social Foundations of Human Behaviour series | View all