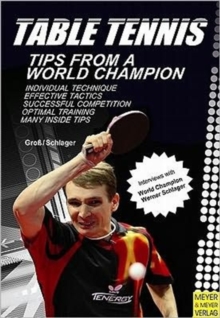 Table Tennis : Tips from a World Champion
Paperback / softback
Description
Werner Schlager stands for a successful individual and self confident player.
That is exactly what he wants to get across in his interviews: individuality, determination, endurance and the belief in yourself. Table Tennis- Tips from a World ChampionA" is a practical training book for successful table tennis.
The aim is not to copy Werner Schlager as a player but to use his tips to find your own way to use them successfully.
Numerous picture series explain technique and tactic.
This book is meant to encourage individuality in technique and game.
All in all this is a differentA" table tennis teaching book for players and coaches who are keen to progress further
Information
Format: Paperback / softback
Pages: 150 pages
Publisher: Meyer & Meyer Sport (UK) Ltd
Publication Date: 03/02/2011
Category: Table tennis
ISBN: 9781841263243
Also by BERND-ULRICH GROSS