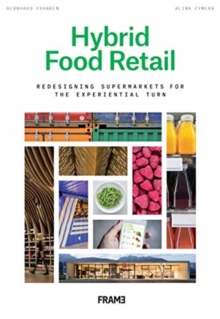 Hybrid Food Retail : Redesigning Supermarkets for the Experiential Turn
Paperback / softback
Description
Online shopping and changing consumer demands radically transform the food retail industry for the first time since the introduction of the supermarket in the 1930s.
After decades of stagnation, food retail is currently one of most creative fields for designers, architects and other professionals developing new formats like bio food markets, 'to go' outlets and pop ups.
This handbook prescribes hybridization - a fusion of supermarket and gastronomy, co-working, hospitalityor performative formats - as a powerful remedy against the digital disruption.
As a result of a 3-year research with 60 students of retail design at PBSA Dusseldorf and for the first time in this field, Hybrid Food Retail offers an overview of the history, an encyclopaedic analysis of the elements and highlights the emerging trends in the food retail industry.
Information
Format: Paperback / softback
Pages: 400 pages
Publisher: Frame Publishers BV
Publication Date: 19/12/2019
Category: Architectural structure & design
ISBN: 9789492311399