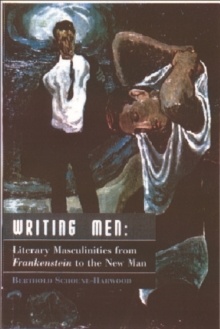 Writing Men : Literary Masculinities from "Frankenstein" to the New Man
Paperback / softback
Description
In Writing Men, Berthold Schoene-Harwood develops a trajectory of masculine emancipation from the monstrous imagery of nineteenth-century fiction to contemporary men writers' experimental new discourse of ecriture masculine.
Looking at 13 individual case studies, Schoene-Harwood outlines the historical development of literary representations of masculinity from Mary Shelley's Frankenstein to Ian McEwan's The Child in Time.
Subdivided into four parts, the study's first section takes a journey into the nineteenth-century pre-history of post-war and contemporary British men's writing, introducing readers to literature's capacity to both consolidate and unsettle traditional conceptions of femininity and masculinity.
In Part II, detailed readings of modern classics such as Lord of the Flies, A Clockwork Orange, Look Back in Anger and Room at the Top reveal the persistence of patriarchal gender hierarchies in the 1950s and early 1960s.
The third and central section explores the influence feminist thought has had on some men's contemporary re-imaging of themselves beyond the confines of traditional gender formations. The final section discusses Neil Bartlett's Ready to Catch Him Should He Fall as an attempt to subvert patriarchal masculinity from a gay male perspective.
Inspired by feminist theory and the new academic discipline of Men's Studies, Schoene-Harwood analyses men's writing both in relation to women's writing and as a literary genre in its own right. Arguing for a new discourse of ecriture masculine, Writing Men makes a challenging and theoretically ambitious contribution to current critical debates on the literary representation of gender.
Key Features: * The study comprises detailed, innovative and original readings of 13 works of literature * It historicises the literary representation of masculinity by outlining its development from the nineteenth century to the immediate present * Its introductory, yet sophisticated approach will appeal to students, academics, specialists and non-specialists alike
Information
Format: Paperback / softback
Pages: 224 pages
Publisher: Edinburgh University Press
Publication Date: 22/12/1999
Category: Literary studies: c 1800 to c 1900
ISBN: 9780748610006
Also by Berthold Schoene