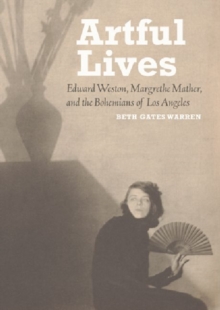 Artful Lives - Edward Weston, Margrethe Mather, and the Bohemians of Los Angeles
Hardback
Description
This title presents a captivating account of two photographers, one of whom became a major figure in the art, and the other who fell into obscurity.
It also presents a fascinating account telling the hitherto untold love story of Edward Weston and Margrethe Mather.
Both photographic artists at the centre of the Bohemian cultural scene of Los Angeles during the 1910s and 20s, Weston would go on to become the most influential American photographer of the 20th century, while Mather, who Weston ultimately expunged from his journals, would vanish into obscurity.
Based on 10 years of research and illustrated with extraordinary images - some never published - and a charismatic range of characters, from Charlie Chaplin to Max Eastman, "Artful Lives" is a vivid and insightful account of this key period in Weston's development and reveals Mather's important contribution to it.
Information
Format: Hardback
Pages: 392 pages, 87 black & white illustrations
Publisher: Getty Trust Publications
Publication Date: 13/10/2011
Category: Individual photographers
ISBN: 9781606060704
Also by BETH GATES WARREN