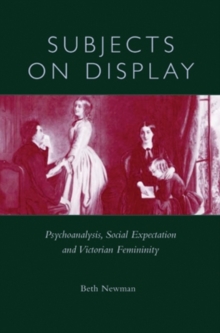 Subjects On Display : Psychoanalysis Social Expectation &
Hardback
Description
Subjects on Display Explores A Recurrent Figure at the heart of many nineteenth-century English novels; the retiring, self-effacing woman who is conspicuous by her inconspicuousness.
Beth Newman draws upon both psychoanalytic theory and recent work in social history as she argues that this paradoxical figure, who often triumpha over more dazzling, eye-catching rivals, is a response to the forces that made personal display a vexed issue for Victorian women.
Chief among these is the changing socioeconomic landacape in which the ideal of the modest woman outlived its usefulness as a class signifier even as it continued to exert moral authority.
The problem cannot be grasped in its full complexity, Newman shows, without considering how the unstable social meanings of display interacted with psychical forces - specifically, the desire to be aeen by others.
This desire is fundamental to both masculine and feminine subjectivity, but feminist theorists have been reluctant to address it.
Nor has it been explored in contemporary scholarship on vision and visuality, which tends to identify subjectivity with the position of the observer rather than the observed.
Through a consideration of fiction by Charlotte Bronte, Charles Dickens, George Eliot, and Henry James, Newman shifts the inquiry toward the observed in the experience of being seen.
In the process, she reopens the question of the gaze and its relation to subjectivity.
Subjects on Display will appeal to scholars and students in several disciplines as it returns psychoanalysis to a central position within literary and cultural studies.
Free Home Delivery
on all orders
Pick up orders
from local bookshops
Also by Beth Newman