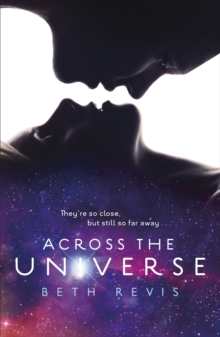 Across the Universe
Paperback
Description
Amy has left the life she loves for a world 300 years awayTrapped in space and frozen in time, Amy is bound for a new planet.
But fifty years before she's due to arrive, she is violently woken, the victim of an attempted murder.
Now Amy's lost on board and nothing makes sense - she's never felt so alone.Yet someone is waiting for her.
He wants to protect her; and more if she'll let him.
But who can she trust amidst the secrets and lies? A killer is out there - and Amy has nowhere to hide . . .
Information
Format: Paperback
Pages: 416 pages
Publisher: Penguin Books Ltd
Publication Date: 02/10/2010
Category: Science fiction
ISBN: 9780141333663
Free Home Delivery
on all orders
Pick up orders
from local bookshops
Reviews
Showing 1 - 4 of 4 reviews.
Review by auntmarge64
16/06/2015
Amy, a teenager cryogenically frozen along with her parents for a long trip from Earth to Alpha Centauri, awakens aboard the spaceship 50 years early. She finds a monoethnic society dominated by the tyrannical Eldest, whose student and heir, Elder, is smitten with Amy and begins to question his upbringing, even as more of the frozen are unplugged and several die. Someone is trying to sabotage the ship, or the colonists, or Eldest's rule, or all three. Amy and Elder work together to discover the murderer and unravel the mysteries of a ship filled with drugged workers and a hospital where those with creativity and curiosity are isolated and labeled insane. The first in a trilogy. A quick read, lots of action, interesting characters, and a chilling (really!) portrayal of cryogenics. Older teens will eat this up, and adults with a sci fi and dystopic bend to their reading will enjoy it too.
Review by sithereandread
16/06/2015
ACROSS THE UNIVERSE, by Beth Revis, is a epic sci-fi adventure that will keep you glued to the pages. I am usually not a fan of sci-fi, but when I saw this cover and read the synopsis I felt drawn to read it. This cover is so stunning. The colors and stars are beautiful and the dual faces make it very intriguing.I liked the structure of the book with alternating POVs from Amy and Elder. The dreams that Amy had while cryogenically frozen gave me an insight to her life before coming aboard Godspeed. And the interaction between Elder and Eldest gave me a deeper look into the suspicious nature of the ship and what was actually happening.Revis left no stone unturned when creating the setting for the ship. The details of how the ship ran and the people who performed their jobs were flawless and structured quite well. I was very impressed with 'world building' and how each part of the ship functioned.The relationship between Amy and Elder was adorable. Elder being attracted to Amy's differences, which everyone else seemed to have a problem with, was charming and brought out more emotion that he bargained for. Amy's connection with Elder started off with a need for companionship but they both experienced an adventure that was out of this world and relied on each other to survive.The minor characters were great too. I liked Harley and his 'craziness'. He was definitely a great friend and sidekick. Also, as much as I wanted to hate Eldest, I felt his motivations for his actions were somewhat warranted and I am curious to see if he and Amy will ever see eye to eye.There is so much in this book that amazed me. The creativity and attention to detail was phenomenal. Revis definitely knows how to rope a reader in and throw in surprises at each page. The overall plot was fantastic and after the initial problem was solved, these two are now faced with an ever bigger problem than they could have ever dreamed. I am excited to read the next book to find out what happens next on this journey on Godspeed.
Review by Krissy724
16/06/2015
Across The Universe is a wonderful, creative, and original debut novel. Set hundreds of years into the future, the story follows Amy, frozen while still on Earth to be woken up 300 years later on another planet, and Elder, born and raised on the ship, Godspeed, and future leader of the ship's residents.Let me start by saying that the first chapter terrified me. Reading about Amy and her parents being frozen alive was surreal. Beth Revis' vivid writing made me feel that I was the one being frozen. After that initial chapter, the next hundred pages or so went kind of slow for me. I thought about "breaking up" with it, but boy am I glad I didn't! Once I hit the half way mark, I was not able to put the book down for a second. I wanted, no I NEEDED to know what was going to happen!Godspeed had many, many secrets and Amy and Elder were trying to figure them out. I loved being able to piece together the puzzle until I learned the truth. The book also had me asking myself some ethical types of questions, and some of them I had a hard time answering.I would recommend this book to my friends. At first I was hesitant about reading it because I don't normally enjoy science fiction stories, but I am so happy that I gave this book a chance!
Review by zjakkelien
16/06/2015
This book was very nice, and easy to read. I had some trouble putting the book away at times. The story is good, and so is the development of the main characters.