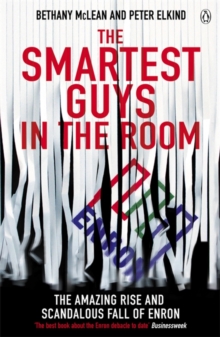 The Smartest Guys in the Room : The Amazing Rise and Scandalous Fall of Enron
Paperback
Description
What went wrong with American business at the end of the 20th century?Until the spring of 2001, Enron epitomized the triumph of the New Economy.
Feared by rivals, worshipped by investors, Enron seemingly could do no wrong.
Its profits rose every year; its stock price surged ever upward; its leaders were hailed as visionaries. Then a young Fortune writer, Bethany McLean, wrote an article posing a simple question - how, exactly, does Enron make its money?Within a year Enron was facing humiliation and bankruptcy, the largest in US history, which caused Americans to lose faith in a system that rewarded top insiders with millions of dollars, while small investors lost everything.
It was revealed that Enron was a company whose business was an illusion, an illusion that Wall Street was willing to accept even though they knew what the real truth was. This book - fully updated for the paperback - tells the extraordinary story of Enron's fall.
Information
Format: Paperback
Pages: 480 pages
Publisher: Penguin Books Ltd
Publication Date: 30/09/2004
Category: True stories
ISBN: 9780141011455
Free Home Delivery
on all orders
Pick up orders
from local bookshops
Reviews
Showing 1 - 2 of 2 reviews.
Review by defrog
16/06/2015
The full story of the Enron scandal. As I mentioned last time, I'm not usually a fan of corporate/business books, but this had me riveted – I suppose because Enron was as much personality-driven as anything else, and the personalities were so amazingly arrogant that the whole thing has a train-wreck quality to it. After reading this, I'm even more amazed that Enron lasted as long as it did. And it turned out to be timely, what with several Enron characters getting sentenced while I was reading it or just after I finished it.
Review by ElectricRay
16/06/2015
This is a great book about a truly remarkable part of our economic history. I have a minor physical complaint I might as well get off my chest: In their desire to make sure readers get bang for buck (fear not: you do), the publishers have elected to set this book in miniscule type, meaning firstly that you may need reading glasses if not before then after reading it, and secondly that while this looks like a 400 page book, if it were ordinarily typeset it would have the heft of an MM Kaye novel. On the other hand, if over-length in a business book is the sort of thing that dissuades you, don't let it: this is one of the most riveting books on the history of finance you'll read, and it gets more and more addictive the further you go on. As a number of reviewers have noted, it is simply staggering that Enron can have ever got where it got to at all, let alone stayed there for the best part of a decade, with all the ostenisble checks and balances that sophisticated capital markets provide. Staggering. In checks and balances I don't mean regulators, who will always be the last ones to find out where market-based moral turpitude is concerned, but investors, stock analysts, brokers, lenders, rating agencies and fund managers: people who don't just earn huge remuneration, but stake their reputations on being sceptical in the face of unconvincing bluster. But as McLean and Elkind make clear in chapter after chapter, barely disguised and unconvinving bluster was, in large part, all Enron was. For all the "black box" accounting, it is simply inconceivable that Enron's true internal wiring could be kept anything like properly secret, since far too many people had to know about it. Internal and external to Enron there must have been junior lawyers, accountants, auditors, traders and marketers who all had to know what was going on, and people *do* talk: they gossip, they change jobs, they make inappropriate remarks. What's more, the existence (if not the detail) of many of the more toxic situations - the LJM Partnerships, the prepay contracts - were on the public record, so the burning question to my mind, which McLean and Elkind do not address, isn't so much how people could have been so greedy and deceitful (that's not hard to understand at all), but what sociological and psychological factors caused everyone else, collectively, to entirely suspend the critical faculties which they used to evaluate risks in the market. This is no idle query: accurately calibrating and understanding risk is the very key to making money on Wall Street: it's hardly an incidental oversight. Making a pejorative moral assessment of the acts of the Skillings and Lays with the benefit of hindsight is futile, self-serving, and actually unjust: our moral view of corporate behaviour *today* is conditioned and informed by the example of Enron; before Enron, the received propriety of the business and financial community was ipso facto different - if it had not been, given the market-wide (if unwitting) "complicity" documented by this book - Enron *simply couldn't have happened*. If we assume that, in the context of the markets, "received propriety" is really no more than fiscal prudence - aimed at making sure people don't needlessly mislead, deceive or unfairly disadvantage each other (and is enforced by short sellers as effectively as regulators), the far more interesting question is *how could the prevailing moral framework have failed so badly*? Why was it so inadequate at dealing with outcomes of actions we can now see (with the benefit of hindsight and our newly adjusted moral binoculars) are transparently odious? And that prompts a deeper question yet: what could it be about the prevailing, Post-Enron economic mores which could allow a disaster on a similar scale to happen again? That's the 300 pound gorilla that all the post-facto moralisers (and they are as prevalent within the investment banking community as without it) will never address. Had Elkind and MacLean ventured into that territory this would have been an outstanding book (it is still worth 5 stars in my view): as it was - and with an admirable absence of judgmental prurience - the writers stick to pure reportage, to the point where the epilogue ends rather abruptly without so much as a conclusion. But that's small beer: this is a fascinating, rewarding read.