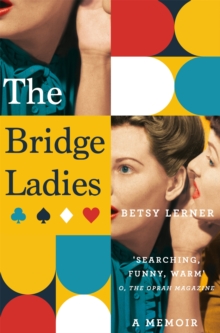 The Bridge Ladies : A Memoir
Paperback / softback
Description
For the past fifty years, Monday afternoons in New Haven have always been the same: Roz, Rhoda, Bea, Jackie and Bette. A card table with four folding chairs (and one dummy seat). The old deck of cards in their worn-out cardboard box. A plate of homemade cookies or brownies on the kitchen counter somewhere, largely untouched. And once they begin the game, hours of silence, punctuated only by the sound of cards being plucked up or snapped down into a row along the perimeter of the table.
For Betsy Lerner, it was her routine by proxy. As a child, the Bridge Ladies, her mother Roz and her four best friends, were fascinatingly chic, with their frosted hair-dos and shiny nylons, serious about the game in a way that sent her tiptoeing around the corner of the living room. Later, when Betsy was a teenager, the women seemed hopelessly square and out of touch, perfectly content to sit idly as the sexual revolution erupted outside. And as an adult, comfortably established in New York City, living the dream of a successful career in publishing, to Betsy, the Bridge Ladies were a distant relic of her past - a moment in time around which her childhood and adolescent memories spun. Then, her husband accepted a job in New Haven, and she found herself right back where she started.
Suddenly, as taking care of aging Roz became a bit more hands-on, the days of the Bridge Ladies came hurtling back, their Monday lunch and Bridge Club still ongoing for over fifty years. These were ladies of a particular point in time that bore no resemblance to our ADHD, iPhone-centric, self-obsessed twenty-first-century lives. They had accepted their lot in life and were grateful. They didn't talk about their problems, much less those involving sex, relationships, or their children. They had raised their families and cared for their husbands dutifully, and could make a pretty mean noodle kugel to boot. They were scholars in coral lipstick, collectively owning the secret to making the perfect matzoh ball. They missed out on sex, drugs and rock 'n' roll, and produced the most entitled and indulged generation yet, the Baby Boomers (until their grandchildren came along, of course). No, these women weren't extraordinary, on paper. To Betsy, they once were the most boring people on the planet, but once she started looking, really looking, at them, that was the farthest thing from the truth.
The Bridge Ladies is a group portrait of these women, what they've shared with each other over the past fifty years, but also what they keep to themselves. For them, pain has always been a private matter, and they've each seen plenty of it. And in discovering the secret lives of the Bridge Ladies, Betsy Lerner has found a way to fully understand the rocky path between her and her mother.
Wildly perceptive and, in turns, hilarious and fearlessly vulnerable, Lerner's memoir is required reading for anyone who understands what the Bridge Ladies have just begun to teach her: in Betsy's words, Facebook may connect us across the world and throughout history, but it won't deliver a pot roast.
Information
Format: Paperback / softback
Pages: 320 pages
Publisher: Pan Macmillan
Publication Date: 28/02/2017
Category: Memoirs
ISBN: 9781447272526
Other Formats
Hardback from £15.25
EPUB from £7.19
Free Home Delivery
on all orders
Pick up orders
from local bookshops