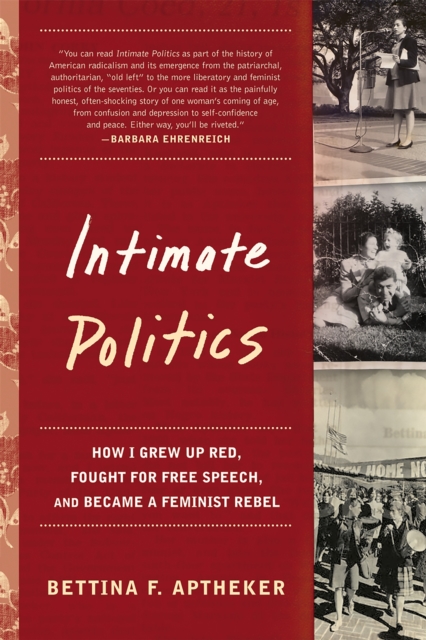 Intimate Politics : How I Grew Up Red, Fought for Free Speech, and Became a Feminist Rebel
Paperback / softback
Description
At eight years old, Bettina Aptheker watched her family's politics play out in countless living rooms across the country when her father, historian and U.S.
Communist Party leader Herbert Aptheker, testified on television in front of the House on Un-American Activities Committee in 1953.
Born into one of the most influential U.S. Communist families whose friends included W. E. B. Du Bois, Paul Robeson, and Elizabeth Gurley Flynn, Bettina lived her parents' politics witnessing first-hand one of the most dramatic upheavals in American history.
She also lived with a terrible secret: incest at the hands of her famous father and a frightening and lonely life lived inside a home wrought with family tensions.A gripping and beautifully rendered memoir, Intimate Politics is at its core the story of one woman's struggle to still the demons of her personal world while becoming a controversial public figure herself.
This is the story of childhood sexual abuse, abortion, sexual violence, activism, and the triumph over one's past.
It's about FBI harassment and persecution, Jewish heritage, and lesbian identity.
It is, finally, about the courage to speak one's truth despite the consequences and to break the sacred silence of family secrets.
Information
Format:Paperback / softback
Pages:375 pages
Publisher:Seal Press
Publication Date:26/09/2006
Category:
ISBN:9781580051606
Information
Format:Paperback / softback
Pages:375 pages
Publisher:Seal Press
Publication Date:26/09/2006
Category:
ISBN:9781580051606