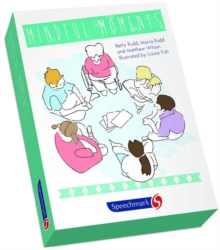 Description
Mindfulness or 'mindful meditation' is a type of meditation that works on the mind.
It is very easy to do and will help to achieve a calm and stable mind and allow mental contentment, peace and harmony through various areas of life.
This pack contains 52 Mindful Moments and an accompanying booklet which outlines ways to use the cards in a variety of environments including schools, hospitals, care homes, special schools, prisons, work settings, youth clubs - all will benefit from taking time out to consider moments triggered by the cards.
Therapists are increasingly incorporating mindfulness into their practise.
For example, psychotherapists and counselling psychologists are applying mindfulness techniques alongside or as part of other established techniques such as cognitive behavioural therapy. Examples of card content include: Is one hand hotter than the other?; Notice how you are in this moment.
Notice your beating heart. What feels calm in your body? Grounded in respect, compassion, acceptance and non-judgement, Mindful Moments can lead to noticeable benefits for the individual and the social dynamics of their environment.
Information
Format: Cards
Pages: 52 pages
Publisher: Taylor & Francis Ltd
Publication Date: 12/06/2013
Category: Mind, Body, Spirit
ISBN: 9780863889851