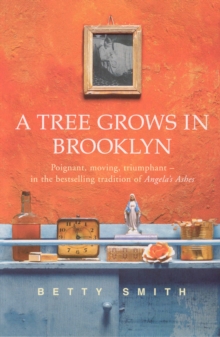 A Tree Grows in Brooklyn, A
Paperback
Description
The Nolans lived in the Williamsburg slums of Brooklyn from 1902 until 1919.
Their daughter Francie and their son Neely knew more than their fair share of the privations and suffering that were the lot of New York's poor.
A Tree Grows in Brooklyn is the story of Francie, an imaginative, alert, resourceful child, and of her family.
Information
Format: Paperback
Pages: 496 pages
Publisher: Cornerstone
Publication Date: 01/09/1992
ISBN: 9780099427575
Free Home Delivery
on all orders
Pick up orders
from local bookshops
Reviews
Showing 1 - 3 of 3 reviews.
Review by BoundTogetherForGood
16/06/2015
It took a long time for me to become interested in this book after I began reading it. I still don't really understand why it is so loved today. I do believe I can understand, maybe, why people loved it when it was first published, as it sounds as if it was very different from other books of the time. I think it probably portrays a pretty true picture of the times, around the first World War, in New York, and that is what I most appreciate about the book.
Review by whirled
16/06/2015
I just can't find the words for this one - suffice it to say <i>A Tree Grows In Brooklyn</i> is really something special. It should be read by everyone, everywhere.
Review by DaptoLibrary
16/06/2015
As a book group, we are no strangers to American classics. We've delved into more than a few over the 10 years we have been meeting, and on no occasion have they been described as 'saccharine'. But there is a first time for everything, and this is exactly what approximately half of our group thought of Smith's A Tree Grows in Brooklyn. Francie was too good to be true and many of the outcomes in the story lacked in the reality stakes. Others believed the story was devoid of intensity and some of the more interesting issues were glossed over.There were of course references made to McCourt's Angela's Ashes (which everyone had read), but as A Tree was written in the early 1940s, it was accepted that Smith had obviously written a book of her time, which we generally agreed was to some extent biographical.On the positive side, others believed it to be a wonderful read and historically correct. There was a strong sense of place and Francie's character was exactly what the book's protagonist needed it to be. We then proceeded to have a great discussion on the book's many characters and it was mentioned that there was a clear depiction of pride written into them. Something that everyone felt and agreed was common among Smith's social class of the time.It was about here that we began some reminiscing, as several of us could recall similar childhood memories of a time when space and money was short. Growing up stories are always entertaining and a wonderful way of rounding off a great discussion. For, regardless of a book's original intent, if it inspires thoughtful and enjoyable discourse, it is always a winner with us!Merry Christmas and Happy New Year to all our readers. We look forward to another great year of reading and sharing with you!