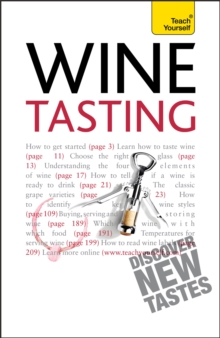 Wine Tasting
Paperback / softback
Description
Is this the right book for me?Wine Tasting will help you to discover wines you enjoy, and to feel confident about your choices in every situation.
It will give you a step-by-step guide to wine appreciation and explain the facts you need to find wines that suit your taste.
It covers all the major grape varieties and wine-making styles, and offers plenty of practical information about how to buy, store and serve wine, whatever your personal preference.
Wine Tasting includes:Part one: where to beginChapter 1: Getting startedChapter 2: How to taste winePart two: the flavours of wineChapter 3: Grape varietiesChapter 4: Climate and placeChapter 5: The winemakerChapter 6: Understanding your own tastePart three: Wines of the worldChapter 7: How to identify wine stylesChapter 8: Wine regions: EuropeChapter 9: Wine regions: the new worldPart four: Buying, serving and storing wineChapter 10: Wine with foodChapter 11: Serving wineChapter 12: Understanding wine labelsChapter 13: Buying wineChapter 14: Storing wine
Information
Format:Paperback / softback
Pages:272 pages, Full colour illustrations and photographs
Publisher:John Murray Press
Publication Date:24/09/2010
Category:
ISBN:9781444103748
Also by Beverley Blanning