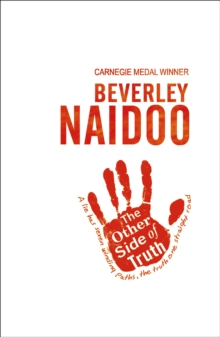 The Other Side of Truth
Paperback
Description
This is the story of 12 year-old Sade and her brother Femi who flee to Britain from Nigeria.
Their father is a political journalist who refuses to stop criticising the military rulers in Nigeria.
Their mother is killed and they are sent to London, with their father promising to follow.
Abandoned at Victoria Station by the woman paid to bring them to England as her children, Sade and Femi find themselves alone in a new, often hostile, environment.
Seen through the eyes of Sade, the novel explores what it means to be classified as 'illegal' and the difficulties which come with being a refugee.
Information
Format: Paperback
Pages: 240 pages
Publisher: Penguin Books Ltd
Publication Date: 27/04/2000
Category: Family
ISBN: 9780141304762
Other Formats
Hardback from £10.00
Paperback from £6.55
EPUB from £4.99
Free Home Delivery
on all orders
Pick up orders
from local bookshops
Reviews
Showing 1 - 2 of 2 reviews.
Review by SandDune
16/06/2015
In Lagos twelve year old Sade and her ten year old brother Femi are getting ready for school when they hear the sound of shots: they find their mother lying dead in their father's arms in their driveway, after getting in the way of a bullet meant for her husband, a journalist on an English language newspaper who has received death threats for his criticism of the Nigerian government. Within hours further death threats have been received and Sade's father, Folarin Solaja, decides that both he and his children must leave the country at once. The same night the children are given into the care of a woman who will smuggle them into Britain where they can live with their uncle who teaches at a London college, while their father will travel separately under a false passport as his own has been siezed by the government. But when the children arrive in London their uncle does not meet them at Heathrow and they are abandoned by their so-called protector; when they attempt to trace their uncle at his college he has disappeared and has not been seen for a week. Wondering alone late at night on the streets of London the children are eventually found by police, and passed into the hands of social services to find them emergency accomodation. Not knowing whether their father has escaped from Nigeria they are frightened to give their real names, but as they are clearly traumatised they are granted temporary permission to stay in Britain and placed with a foster family. But what has happened to their uncle and will they be reunited with their father...Much of the book deals with Sade's experience as she attempts to settle at her new school, where she is bullied by some of her new classmates, and the parallels between this and her father's experiences standing up to the authorities in Nigeria, give the books its title. Because she is from Africa she is assumed not to speak English, and not to able to spell her own name, whereas in fact Sade has been brought up speaking English as well as Yoruba from birth, and is a well-educated girl who attended a good school in Lagos. These assumptions don't seem particularly racist in character, as some of the bullies are Caribbean in origin, but seem more to reflect the stereotypes that children might pick up about Africa given what is normally seen on the television. I was particularly interested in the portrayal of schools in the U.K. versus schools in Nigeria as I work closely with someone of Nigerian origin who has sent her own children to boarding school there in preference to them attending the schools locally. Saying that in my son's class there are three children from Nigeria who have gone the other way.Altogether a good YA read, with some similarities to Pigeon English that I read earlier in the year.
Review by ClicksClan
16/06/2015
Really loved this book. Probably could've read it all in one sitting if I'd had the time.There were a few places where I could have cried, Naidoo did a really good job of writing the character so you sympathised with her.The course materials mention a sequel which deals with Femi which I would like to read as he's so closed off in this book that sooner or later all that anger and hurt will have to come out.Really interesting book to study too, decided to use it as one of the books to write about in my essay.Was surprised to learn Beverley Naidoo is a white South African, I was expecting her to be Nigerian as the book felt very personal.
Also in the A Puffin Book series | View all