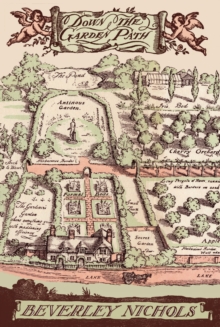 Down the Garden Path
Hardback
Description
"Down the Garden Path" has stood the test of time as one of the world's best-loved and most-quoted gardening books.
Ostensibly an account of the creation of a garden in Huntingdonshire in the 1930s, it is really about the underlying emotions and obsessions for which gardening is just a cover story.
The secret of this book's success - and its timelessness - is that it does not seek to impress the reader with a wealth of expert knowledge or advice.
Beverley Nichols proudly declares his status as a newcomer to gardening: 'The best gardening books should be written by those who still have to search their brains for the honeysuckle's languid Latin name'.
As unforgettable as the plants in the garden is the cast of visitors and neighbors who invariably turn up at inopportune moments.
For every angelic Miss Hazlitt there is an insufferable Miss Wilkins waiting in the wings.
For every thought-provoking Professor, there is an intrusive Miss M, whose chief offense may be that she is a 'damnably efficient' gardener.
From a disaster building a rock garden, to further adventures with greenhouses, woodland gardens, not to mention cats and treacle, Nichols has left us a true gardening classic.
Information
Format: Hardback
Pages: 308 pages, 2 b&w photos, 9 line drawings
Publisher: Timber Press
Publication Date: 13/12/2004
Category: Gardens (descriptions, history etc)
ISBN: 9780881927108
Free Home Delivery
on all orders
Pick up orders
from local bookshops
Reviews
Showing 1 - 3 of 3 reviews.
Review by NewsieQ
16/06/2015
I read this book after reading the author's "Merry Hall" trilogy and his biography. Maybe I had Beverley Nichols overload, but Down the Garden Path (his best known work) was my least favorite of his books. What I really liked about the Merry Hall trilogy was its emphasis not on gardening, but on the characters in his life. That said, I think true gardeners would probably like Down the Garden Path better -- it's more gardening book (albeit in a stream of consciousness manner with lots of offshoots into other "stuff") than character study. The author's coolness toward women is very much in evidence, as it is in the other books. Not misogyny but close. 02/09/2010
Review by pinkozcat
16/06/2015
When I first read this book, about 50 years ago, I loved it but re-reading it I found it tedious in the extreme and had to force myself to finish it.It was very much a "me, me, me" type of book and the characters who made brief appearances were so sketchily drawn that I felt frustrated and short-changed.And, living in Australia, there was not a lot which I could relate to as far as the garden was concerned; and I live in a penthouse apartment with two cats which eat anything green so bean sprouts is the most that I can successfully grow.I would rate this book as very disappointing.
Review by obedah
16/06/2015
My mother introduced me to this book and author. Reading him (Beverley is a him) is traveling back 75 years and a continent away. His writing style charmed me like a cyclamen in winter--a jewel amongst paste!
Also in the Allways Trilogy series