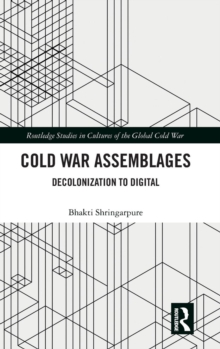 Cold War Assemblages : Decolonization to Digital
Hardback
Description
This book bridges the gap between the simultaneously unfolding histories of postcoloniality and the forty-five-year ideological and geopolitical rivalry between the U.S. and the U.S.S.R. Not only did the superpowers rely upon the decolonizing world to further imperial agendas, but the postcolony itself was shaped, epistemologically and materially, by Cold War discourses, policies, narratives, and paradigms.
Ruptures and appropriated trajectories in the postcolonial world can be attributed to the ways in which the Cold War became the afterlife of European colonialism.
Through a speculative assemblage, this book connects the dots, deftly taking the reader from Frantz Fanon to Aaron Swartz, and from assassinations in the Third World to American multiculturalism.
Whether the Cold War subverted the dream of decolonization or created a compromised cultural sphere, this book makes those rich palimpsests visible.
Information
Format: Hardback
Pages: 206 pages
Publisher: Taylor & Francis Ltd
Publication Date: 02/04/2019
ISBN: 9780367196943
Also in the Routledge Studies in Cultures of the Global Cold War series