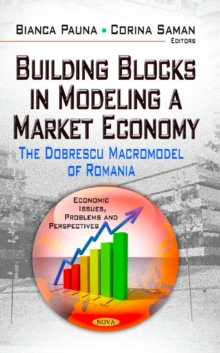 Building Blocks in Modeling a Market Economy : The Dobrescu Macromodel of Romania
Hardback
Description
In most countries there is a growing demand for forecasting tools, and Romania is no exception.
The main forecasting tool used by the Romanian decision makers in order to construct prognosis for the economy or in order to analyse the effect of different policies is the 2005 Dobrescu Model.
Although the Dobrescu macro-model has proved its usefulness, factors have pointed toward the need to update it.
This book presents an up-dated version of the Dobrescu Model of the Romanian economy, structured as independent blocks.
The model consists of 6 blocks. In the main block, the main macroeconomic indicators are forecasted: the GDP and its components (with the exception of the budget expenses which are computed in the budget block), the labour market indicators (participation rate and unemployment rate), labour income, foreign trade and prices and the exchange rate.
The General Consolidated Budget block links the budget variables to other macroeconomic indicators from the main block, thus enabling an analysis of the implications that different policies might have on the budget.
The budget revenues are connected directly to the legal rates, thus making possible the observation effect of tax changes.
The approach permits the separation of the factors related to the macroeconomic environment and the factors related to fiscal policies.
Information
Format: Hardback
Pages: 125 pages
Publisher: Nova Science Publishers Inc
Publication Date: 01/09/2013
Category: Economic theory & philosophy
ISBN: 9781628085518