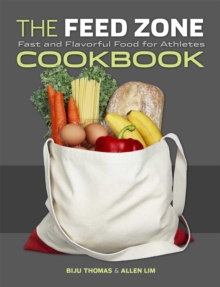 The Feed Zone Cookbook : Fast and Flavorful Food for Athletes
Hardback
Description
When Dr. Allen Lim left the lab to work with pro cyclists, he found a peloton weary of food.
For years the sport's elite athletes had been underperforming on bland fare and processed bars and gels.
Science held few easy answers for nutrition in the real world, where hungry athletes must buy ingredients; make meals; and enjoy eating before, during, and after each workout, day after day.
So Lim set out to make eating delicious and practical.
His journey began with his mum, took him inside the kitchens of the Tour de France, and delivered him to a dinner party where he met celebrated chef Biju Thomas.
Chef Biju and Dr. Lim vetted countless meals with the world's best endurance athletes in the most demanding test kitchens.
Now, in "The Feed Zone Cookbook: Fast and Flavorful Food for Athletes", Thomas and Lim share their energy-packed, wholesome recipes to make meals easy to prepare, delicious to eat, and better for performance. "The Feed Zone Cookbook" provides 150 delicious recipes that even the busiest athletes can prepare in less time than it takes to warm up for a workout. With simple recipes requiring just a handful of ingredients, Biju and Lim show how easy it is for athletes to prepare their own food, whether at home or on the go. "The Feed Zone Cookbook" strikes the perfect balance between science and practice so that athletes will change the way they think about food, replacing highly processed food substitutes with real, nourishing foods that will satisfy every athlete's cravings. "The Feed Zone Cookbook: includes: 150 delicious recipes illustrated with full-colour photographs; Allen Lim's take on the science and practice of food; Portable whole foods, including Lim's famous rice cakes and more; Dozens of quick-prep meals for before and after workouts; Shortcuts, substitutions, and techniques to save time in the kitchen; and, Gluten-free and vegetarian alternatives to favourite dishes.
Information
Format: Hardback
Pages: 320 pages, full colour photos
Publisher: VeloPress
Publication Date: 01/12/2011
Category: Fitness & diet
ISBN: 9781934030769
Free Home Delivery
on all orders
Pick up orders
from local bookshops
Reviews
Showing 1 - 1 of 1 reviews.
Review by SeriousGrace
10/11/2015
This is a gorgeous cookbook. I like its unique shape (8"x 6.5") and feel (nubbly hardcover without a dust jacket). The photography is sublime and speaking of "lime," the lime green ribbon bookmark is cool, too. But, these are all superficial reasons to love a cookbook. Even though the title insists this is food for "athletes" there is a little bias towards cycling. The language is more about riding and less about generic non-specific-sport tough workouts.In truth, the recipes translate for any individual participating in an activity that burns many, many calories. And speaking of calories, this is not a weight-loss, get-thin cookbook. Calories are communicated as "energy units" and are unapologetically abundant. They didn't skimp on the fat or carbs in an effort to slim an athlete down but instead, calories are pumped up to keep an athlete active & to avoid the bonk. And - just in case you start to gain weight using this cookbook and get all upset there is a disclaimer right up front that states portion sizes are larger than normal. You've been warned.Another truth to be prepared for is the tendency towards rice-based dishes. Born in the Philipines, Allan Lim honors his culture with many rice-cooker dishes. Most of the hand-held recipes have a sushi rice base. My advice is to experiment with different varieties of rice if a specific kind isn't necessary. For many of the dishes a sticky rice is called for to hold the finished product together.