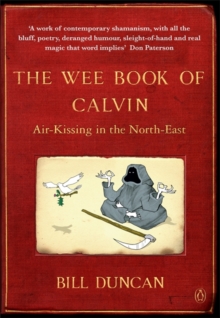 The Wee Book of Calvin : Air-Kissing in the North-East
Paperback
Description
A collection of essays and aphorisms about Scottish Calvinism.
This is Scottish literary humour at its finest. 'A work of contemporary shamanism, with all the bluff, poetry, deranged humour, sleight-of-hand and real magic that implies.' Don Paterson. This is the first (and maybe the last) self-help guide that promises to make you feel a lot worse after you read it. A hilarious satire on freeze-dried mysticism and off-the-shelf enlightenment, it is also a haunting and lyrical reflection on places, voices and memories -- a literary journey into the heart of North-East darkness. 'A perfect evocation of Scotland's mysterious love affair with loss and sorrow.
A powerful dram of Zen Calvinism.' Richard Holloway
Information
Format: Paperback
Pages: 224 pages
Publisher: Penguin Books Ltd
Publication Date: 04/11/2004
Category: Humour
ISBN: 9780141019727
Free Home Delivery
on all orders
Pick up orders
from local bookshops
Reviews
Showing 1 - 1 of 1 reviews.
Review by Malarchy
16/06/2015
The Wee Book of Calvin has become my go-to self-help guide whenever I'm feeling troubled. The dour and biting commentary it sets up matches my own opinions so frequently that I can't help but laugh at myself whenever I pick it up for another dip in. The Wee Book is a series of anecdotes and quotes designed to describe the austere life view that permeates through much of Scottish society and in doing so expertly parodies the pointless self-help industry. I personally enjoy flicking through quote after quote that hammers home the worldview held by those for whom the sun is not always our friend. Quotes such as "Hope is the dream o aa foolish man" or "Keep your heid doon lest ye meet the Devil's stare" speak not only of the cutting perspective but also of the pernicious influence of a religion that no longer holds sway in terms of but still wields an aspiration limiting approach. While I prefer the quotes to the narrative, the storyline itself follows the same path in reinforcing the low esteem conformity and the desire to hide any sense of deviating from the bitter Calvinist approach. What narrative there is has a pervading sense of sadness, the domineering righteousness of the traditionalist characters such as the Grandfather overcome efforts to break the mould and see things differently. The final chapter - Are You A Calvinist was so on the money and I've always enjoyed the "if you [do X] then you might just be [Y]" comedy when it hits truth. Yes, according to that chapter I am most definitely a Calvinist. Having enjoyed this thoroughly I had Smiling School for Calvinists bought for me. Though I didn't read that book for 18 months when I finally got round to it, Duncan's same understanding made it well worth it.
Also by Bill Duncan