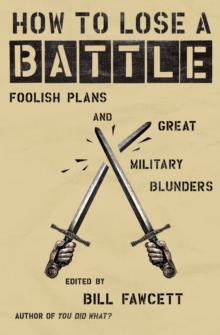 How to Lose a Battle : Foolish Plans and Great Military Blunders
Paperback
Description
A remarkable compendium of the worst military decisions and the men who made themThe annals of history are littered with horribly bad military leaders. These combat incompetents found amazing ways to ensure their army's defeat.
Whether it was a lack of proper planning, miscalculation, ego, bad luck, or just plain stupidity, certain wartime stratagems should never have left the drawing board.
Written with wit, intelligence, and eminent readability, How to Lose a Battle pays dubious homage to these momentous and bloody blunders, including:Cannae, 216 B.C.: the bumbling Romans lose 80,000 troops to Hannibal's forces.The Second Crusade: an entire Christian army is slaughtered when it stops for a drink of water.The Battle of Britain: Hitler's dreaded Luftwaffe blows it big-time.Pearl Harbor: more than one warning of the impending attack is there, but nobody listens.How to Lose a Battle includes more than thirty-five chapters worth of astonishing (and avoidable) disasters, both infamous and obscure -- a treasure trove of trivia, history, and jaw-dropping facts about the most costly military missteps ever taken.
Information
Format: Paperback
Pages: 336 pages
Publisher: HarperCollins Publishers Inc
Publication Date: 03/07/2006
Category: War & defence operations
ISBN: 9780060760243
Free Home Delivery
on all orders
Pick up orders
from local bookshops
Reviews
Showing 1 - 3 of 3 reviews.
Review by Meggo
16/06/2015
This one is written in small, bite sized chunks of individual battles. Generally written in a clear, concise style, some editing mistakes ["...his inaction insured their defeat..." and factual mistakes [Battle of Teutoburg Forest listed as being in 7 A.D. when it actually occurred in 9 A.D.] eroded my pleasure in the book. This one is a great one for people who don't read much and like lighter fare, for it will not overanalize the battles or go into too great a depth. It's also a great book to read in bed, as the small chapters make for nice "a bit at a time" reading.
Review by ulfhjorr
16/06/2015
There is little in this book to recommend. The essays in this collection are as short on information as they are in length. Fans of military history will be disappointed with the lack of depth, and those looking to extend their knowledge even a little will be disappointed by the rather repetitive writing.Read one or two of these essays at random, and you will likely have gleened all there is from the entire book.
Review by crustation
16/06/2015
Heavily biased towards the American Civil War, which in my opinion was the most boring section of the whole book. And it goes on for about 80 pages. Not pleased.
Also in the How to Lose Series series | View all