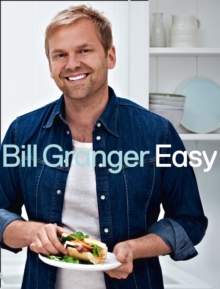 Easy : 100 Delicious Dishes for Every Day
Hardback
Description
Simple, laidback food that bursts with flavour; fresh, inspiring recipes using favourite everyday ingredients - no one does fantastic easy cooking like Bill Granger. Bill Granger has long been a champion of no-fuss food.
Bill is a restaurateur and self-taught cook, but also a working father who cooks for his family every night.
Easy is inspired by years of getting delicious, satisfying meals on the table quickly using everyday ingredients from the fridge or store cupboard, all in Bill's inimitable easygoing style. In this stunning new cookbook, Bill takes 16 well-loved and accessible main ingredients - from a chicken breast, fillet of fish, cut of lamb or tin of beans to berries, chocolate and a chunk of good cheese - and offers simple yet original dishes for maximum flavour with minimum effort.
Each recipe has its own stunning picture. Easy includes 100 fully photographed recipes, from satisfying meat and fish to flavour-packed vegetarian dishes and bakes, bold salads and tasty pasta and finally mouth-wateringly easy sweet things. Great food. Big Flavours. No worries. That's what Bill is all about. Recipes include:Chilli Garlic Chicken with Sour Cream MashTandoori Fish with Cucumber Tomato SaladGoulash with Gnocchi Lamb with Torn Bread and Apricot StuffingFennel Roasted Rack of Pork with Maple SyrupBeef, Mushroom and Mange Tout Stir fryRoasted Sausages with Peppers and OnionsTaleggio and Pancetta Baked PastaRice Salad with Broad Beans, Asparagus and Smoked TroutBaked Leek and Goats Cheese Risotto and Apple and Celery SaladPotato, Courgette and Mozzarella FrittersCinnamon Chocolate MousseGinger Pear Upside Down Pudding
Information
Format: Hardback
Pages: 256 pages, (150 colour photographs)
Publisher: HarperCollins Publishers
Publication Date: 30/08/2012
Category: Quick & easy cooking
ISBN: 9780007478224