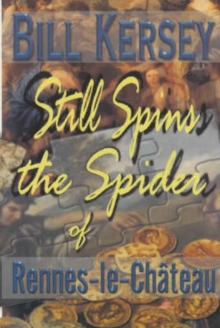 Still Spins the Spider of Rennes-le-Chateau
Paperback
Description
As the nineteenth century drew to a close, the tiny village of Rennes-le-Chateau, on a hilltop in southwest France, became the centre of a fabulous discovery.
What was the secret possessed by Abbe Berenger Sauniere who, between 1891 and 1917, disposed of more than one and a half thousand million in old francs, valued in 1913 at sixty million pounds?
The author has taken up the challenge of bringing the secret of the Visigoths and Knight Templar out of obscurity, and into the light of day.
In this trail of discovery that stretches over three decades, Bill Kersey tracks down the famed, but lost, immense golden hoard of Rennes-le-Chateau as he explores the thorny paths of the rugged landscape.
Following the clues hidden in the Old Master's paintings, the trail of ciphers and mystery leads us through graveyards and ancient chapels to unimaginable riches.
You, the Reader, will be drawn into a web of intrigue and secrets employed by the Templars to conceal their rituals and wealth.GPS technology has been used to pinpoint one of the main treasure troves for the archaeological excavation that must shortly follow. Moreover, the cipher key that is exclusively revealed for the first time in this book, unveils the secret of Rosslyn Chapel.
Discover the rest for yourself, here in "Still Spins the Spider" - as the origins of the Dionysian cipher are traced back 2000 years through the history of art and archaeology.
Now, years later further research has recovered document hidden by the priest, Berenger Sauniere in which he names this Visigothic hoard as 'Thesauris Regalis' the 'Royal Treasure' and names the same cipher and markers to locate the hoard as used by Bill Kersey.
Now Bill will be using the cipher to search out 'Sacred Treasure' of the Visigoths from Jerusalem, also near Rhedae, the ancient capital of the Visigoths.
Information
Format: Paperback
Pages: 350 pages, 63ill.(49col.).
Publisher: DEK Publishing
Publication Date: 01/01/2004
ISBN: 9780954152710
Free Home Delivery
on all orders
Pick up orders
from local bookshops
Also in the Keys of Antiquity series