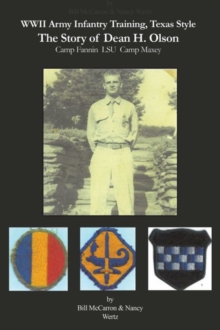 WWII Army Infantry Training, Texas Style : The Story of Dean H. Olson
Paperback / softback
Description
The story of Dean H. Olson covers army infantrytraining at Camps Fannin ( July-October 1943)and Maxey (March-September 1944) and presentsunique perspectives on the day-to-day life of anarmy private Dean H.
Olson, a young man maturefar beyond his teen-age years.
It also providesunusual insight into the army specialized trainingprogram at Louisiana State University where he wasa student (November 1943-March 1944) and onthe Ninety-ninth Infantry Division's deployment tothe North Ardennes in Belgium shortly before theBattle of the Bulge.
WWII Army Infantry Training,Texas Style describes in great detail Olson's armytraining in preparation for fighting in WWII.Because Olson was an exceptional student, hewas selected for the amy special training programdesigned to create new officers for the army.
Dean'sletters bring to life the experiences of a youngsoldier during this time in our nation's history. Olson was among a handful of Army soldiers whosaw training at both Camp Fannin and CampMaxey, and perhaps the only such one who wrotethoughtful letters to his parents about all hisexperiences.
Information
Format: Paperback / softback
Pages: 220 pages
Publisher: Stephen F. Austin State University Press
Publication Date: 30/04/2016
Category: Biography
ISBN: 9781622881062
Free Home Delivery
on all orders
Pick up orders
from local bookshops