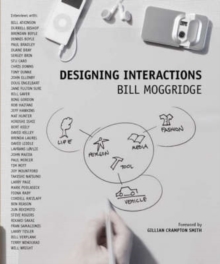 Designing Interactions
Hardback
Description
Digital technology has changed the way we interact with everything from the games we play to the tools we use at work.
Designers of digital technology products no longer regard their job as designing a physical object -- beautiful or utilitarian -- but as designing our interactions with it.
In Designing Interactions, award-winning designer Bill Moggridge introduces us to forty influential designers who have shaped our interaction with technology.
Moggridge, designer of the first laptop computer (the GRiD Compass, 1981) and a founder of the design firm IDEO, tells us these stories from an industry insider's viewpoint, tracing the evolution of ideas from inspiration to outcome.
The innovators he interviews -- including Will Wright, creator of The Sims, Larry Page and Sergey Brin, the founders of Google, and Doug Engelbart, Bill Atkinson, and others involved in the invention and development of the mouse and the desktop -- have been instrumental in making a difference in the design of interactions.
Their stories chart the history of entrepreneurial design development for technology.Moggridge and his interviewees discuss such questions as why a personal computer has a window in a desktop, what made Palm's handheld organizers so successful, what turns a game into a hobby, why Google is the search engine of choice, and why 30 million people in Japan choose the i-mode service for their cell phones. And Moggridge tells the story of his own design process and explains the focus on people and prototypes that has been successful at IDEO -- how the needs and desires of people can inspire innovative designs and how prototyping methods are evolving for the design of digital technology.
Designing Interactions is illustrated with more than 700 images, with color throughout.
Accompanying the book is a DVD that contains segments from all the interviews intercut with examples of the interactions under discussion.Interviews with:Bill Atkinson, Durrell Bishop, Brendan Boyle, Dennis Boyle, Paul Bradley, Duane Bray, Sergey Brin, Stu Card, Gillian Crampton Smith, Chris Downs, Tony Dunne, John Ellenby, Doug Englebart, Jane Fulton Suri, Bill Gaver, Bing Gordon, Rob Haitani, Jeff Hawkins, Matt Hunter, Hiroshi Ishii, Bert Keely, David Kelley, Rikako Kojima, Brenda Laurel, David Liddle, Lavrans Lovlie, John Maeda, Paul Mercer, Tim Mott, Joy Mountford, Takeshi Natsuno, Larry Page, Mark Podlaseck, Fiona Raby, Cordell Ratzlaff, Ben Reason, Jun Rekimoto, Steve Rogers, Fran Samalionis, Larry Tesler, Bill Verplank, Terry Winograd, Will Wright
Information
Format: Hardback
Pages: 792 pages, 700 illus., color throughout
Publisher: MIT Press Ltd
Publication Date: 18/10/2006
Category: Industrial / commercial art & design
ISBN: 9780262134743
Free Home Delivery
on all orders
Pick up orders
from local bookshops
Reviews
Showing 1 - 4 of 4 reviews.
Review by jsonin
16/06/2015
Pros: A solid overview of the history and current landscape of Design - user interface, interaction design, user experience, product design, and rapid prototyping. An inspiring read for novices and veterans.Cons: IDEO and crony-centric. UI design erupted around the globe and not just in San Fran. NCSA, MIT, and many other non-US-based groups pushed design in the 60s, 70s, and 80s.
Review by adulau
16/06/2015
When I touched the first a NeXT station and NeXTSTEP, I was not really thinking of its design and ease of interaction. Reading 'Designing Interactions' remembered me the old days and the incredible user interface we had in hands when working under NeXTSTEP. Building interaction with machine is not a simple thing and takes ages before having something really simple to use. The book is covering aspect like services, games or mobile device. The book is pleasant to read with a clear typesetting and well-balanced with the text and illustration. Not far away for being an art book...
Review by miha
16/06/2015
Stories about famous things and people, great images, readable and browsable
Review by gbsallery
16/06/2015
A masterful synopsis of what interaction design is, how it came about, what it's useful for and how to do it. Contains many insightful interviews with major figures from the history of computing, some of which can be seen on the accompanying DVD. Lavishly produced, this is a readable work which can also be used as a reference. Very well thought through.
Also by Bill Moggridge