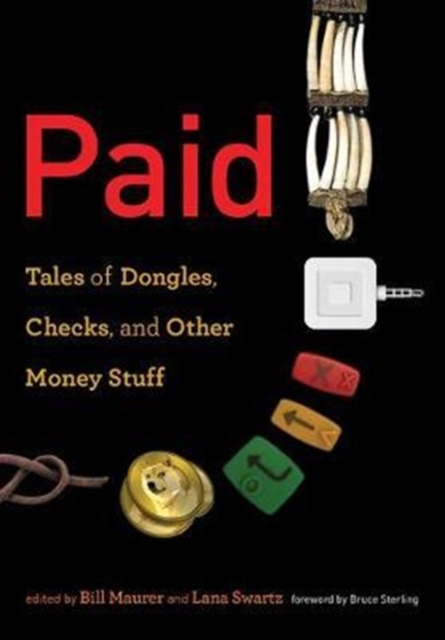 Paid : Tales of Dongles, Checks, and Other Money Stuff
Paperback / softback
Description
Stories about objects left in the wake of transactions, from cryptocurrencies to leaf-imprinted banknotes to records kept with knotted string. Museums are full of the coins, notes, beads, shells, stones, and other objects people have exchanged for millennia.
But what about the debris, the things that allow a transaction to take place and are left in its wake?
How would a museum go about curating our scrawls on electronic keypads, the receipts wadded in our wallets, that vast information infrastructure that runs the card networks?
This book is a catalog for a museum exhibition that never happened.
It offers a series of short essays, paired with striking images, on these often ephemeral, invisible, or unnoticed transactional objects-money stuff. Although we've been told for years that we're heading toward total cashlessness, payment is increasingly dependent on things.
Consider, for example, the dongle, a clever gizmo that processes card payments by turning information from a card's magnetic stripe into audio information that can be read by a smart phone's headphone jack. Or dogecoin, a meme of a smiling, bewildered dog's interior monologue that fueled a virtual currency similar to Bitcoin. Or go further back and contemplate the paper currency printed with leaves by Benjamin Franklin to foil counterfeiters, or khipu, Incan records kept in knotted string. Paid's authors describe these payment-adjacent objects so engagingly that for a moment, financial leftovers seem more interesting than finance.
Paid encourages us to take a moment to look at the nuts and bolts of our everyday transactions by looking at the stuff that surrounds them. ContributorsBernardo Batiz-Lazo, Maria Bezaitis, Finn Brunton, Lynn H.
Gamble, David Graeber, Jane I. Guyer, Keith Hart, Sarah Jeong, Alexandra Lippman, Julien Mailland, Scott Mainwaring, Bill Maurer, Taylor C.
Nelms, Rachel O'Dwyer, Michael Palm, Lisa Servon, David L.
Stearns, Bruce Sterling, Lana Swartz, Whitney Anne Trettien, Gary Urton
Information
Format:Paperback / softback
Pages:320 pages, 74 color illus., 11 b&w illus.
Publisher:MIT Press Ltd
Publication Date:16/03/2018
Category:
ISBN:9780262535212
Information
Format:Paperback / softback
Pages:320 pages, 74 color illus., 11 b&w illus.
Publisher:MIT Press Ltd
Publication Date:16/03/2018
Category:
ISBN:9780262535212
Also in the Infrastructures series | View all