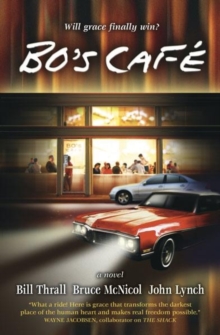 Information
Format: Paperback
Pages: 256 pages
Publisher: Windblown Media
Publication Date: 12/11/2009
ISBN: 9781935170044
Free Home Delivery
on all orders
Pick up orders
from local bookshops
Reviews
Showing 1 - 2 of 2 reviews.
Review by StevenD
16/06/2015
Bo's Cafe (like The Shack) proves that people are hungry for literature that offers more than just a portrait of the human condition. Readers want stories that offer true and realistic resolutions to the promises that have been made in the novel's onset. The subtitle to Bo's Cafe is "Will grace finally win?" In the last 30 to 50 pages, the authors paint a resolution that most people have never experienced before. The resolution isn't magic and it isn't easy for the characters in the story, but it is beautiful. If you want magical and happy endings, then Bo's Cafe isn't for you. If you want to see a realistic type of resolution to the question, "Will grace finally win?" then you'll want to check out "Bo's Cafe". The main drawback to Bo's Cafe (and to The Shack I believe) is the technical aspects of the writing. Too many complete sentences during the dialogue and I wasn't entirely convinced about some of the reactions that were made by the characters in various situations. That being said, I did get caught up in the story and it helped to overcome what I saw as technical writing problems. In fact, I got caught up in the novel because I wanted to see what would happen to each of the characters. I had become invested in them and I wanted to see their resolution--Would grace finally win? I had to find out. For the problems with the technical aspects, I take half-a-star off. Otherwise, five stars for showing a realistic resolution.
Review by VickiLN
16/06/2015
Steven Kerner has a life that seems to be perfect. Status in the community, a nice house, lots of money, a beautiful wife, and a daughter named Jennifer. But what goes on behind closed doors is sometimes very different than what your colleagues, family and friends see. Steven has anger issues and Lindsey has had enough. She takes Jennifer and leaves but soon realizes that Steven is the one who should have left. She tells him she and Jennifer want to move back in, so he rents a room at the Marriott and ends up staying for way longer than he expected. One day he drives to an old restaurant where his family used to go when he was young and goes inside. There he meets Andy, a stranger who offers unwanted advice and a friendship Steven is not sure he wants. Through meetings with Andy and his friends who meet at Bo's Cafe, Steven learns the real truth behind his troubles.Although I liked the book from the first page, I wasn't really drawn into the story at first. Then, the more I read, the more I wanted to read until I couldn't put it down. The characters were so real and down to earth that I felt like I was sitting at Bo's with them. My favorite character other than Andy was Cynthia. Like me, she is a hippie at heart. I loved the descriptions of her clothes, jewelry and mannerisms. I loved the bond these friends had and that they met at Bo's on a regular basis to keep that friendship strong. I loved that they all found each other at a time in their lives when they so badly needed someone to help them get through a very tough time.This is a story of finding the true "you" even when it is nothing that you want to hear or acknowledge. It's a story about God's Grace and what you can overcome only through Him. It's about having people who love you and who you love no matter what flaws any of you have. It's about forgiveness and humility. It is a book I would recommend to anyone and everyone.
Also by Bill Thrall