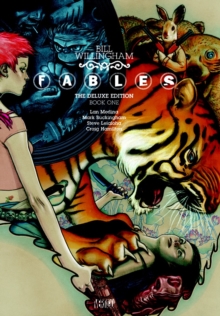 Fables Deluxe Edition HC Vol 01
Hardback
Description
For the first time ever, Bill Willingham's acclaimed, Eisner Award-winning series FABLES is presented in a deluxe hardcover edition collecting issues #1-10.
When a savage creature known only as the Adversary conquered the fabled lands of legends and fairy tales, all of the infamous inhabitants of folklore were forced into exile.
Disguised among the normal citizens of modern-day New York, these magical characters have created their own peaceful and secret society within an exclusive luxury apartment building called Fabletown.
When Snow White's party-girl sister, Rose Red, is apparently murdered, it's up to Fabletown's sheriff, the reformed and pardoned Big Bad Wolf, to find the killer.
Meanwhile, trouble of a different sort brews at the Fables' upstate farm where non-human inhabitants are preaching revolution - and threatening Fabletown's carefully nurtured secrecy.
Advance-solicited; on sale September 30 7.0625" x 10.875", 264 pg, FC, $29.99 US, MATURE READERS
Information
Format: Hardback
Pages: 264 pages
Publisher: DC Comics
Publication Date: 30/09/2009
Category: Comics and Graphic Novels
ISBN: 9781401224271
Free Home Delivery
on all orders
Pick up orders
from local bookshops
Reviews
Showing 1 - 5 of 7 reviews.
Previous | Next
Review by jmc_cndk8
16/06/2015
I really am starting to love comic books especially this one. 'Fables' juxposes our beloved children's stories into the mature and adult world of non-magical New York City. The mystical characters like Snow White, the Big Bad Wolf, and Blue Beard are refugees escaping the land of Fables after it has been conquered by the "the Adversary." Book One Deluxe Edition features the first two story arcs of the series: the first one dealing with the murder of Rose Red Snow's sister and the second is about the rebellion led by Goldilocks at the upstate 'Farm' for non-humanoid Fables. 4/5 stars
Review by AHS-Wolfy
16/06/2015
This hardback edition gathers the first two books of the Fables series, Legends in Exile and Animal Farm. Each of those is split into five comics so it mad sense to me to pick up this edition as I was pretty sure it was going to be something I'd enjoy. I've only previously read a couple of graphic novels but it seems I'm destined for a few more in the future.As Bill Willingham tells us in the introduction, Fables are taken from the myths, legends and fairy stories we all heard when we were kids or have told to our own children. But here they've been given an adult twist. Forced to flee their homelands they now live in New York and have to make ends meet just like the rest of us.The first story, Legends in Exile, has Bigby Wolf, the sheriff of the Fables living in the New York community, investigating the disappearance and possible death of Rose Red. Snow White invites herself along on the investigation as she wants to know what's happened to her sister. Throw in Bluebeard, Prince Charming and Jack as the major suspects, not to mention Snow herself, and you have an almost classic noir tale. Can Bigby follow the evidence trail and get the right answer at the parlour scene?As you may expect from the title of the second story we have a pastiche of George Orwell's Animal Farm. The none human types have been closeted away at the farm and some of them are beginning to get a bit restless. Can a revolution succeed when it's led by the three pigs and Goldilocks?A beautifully glossy hardbound book with glorious illustrations and sensible panels and the occasional full page and two page drawings are a real treat to the eyes. These editions are being released once each year, the second volume due in November and I can't wait. I may have to beg, borrow or steal the rest of the series while the deluxe editions are being released.
Review by mamzel
16/06/2015
Most of the characters from our favorite fairy tales and nursery rhymes come together with more characters from familiar stories like the Jungle Book and Animal Farm. The more human characters live under cover in New York City as a community they call Fabletown. The other characters live in an upstate farm called The Farm. Snow White is the mayor of Fabletown and asks help from chain-smoking PI, Bibby Wolf, when it appears her sister, Rose Red, was killed. This volume of stories includes five chapters in each of two stories, 10 editions in one. The art is outstanding as the scenes are layered and detailed. A stellar example of the genre.
Review by ninjoblio
16/06/2015
Uh, pretty good. I enjoyed this a bit and though it creative. I don't know that it floored me though. After having recently read Blankets by Craig Thompson (or even Bone by Jeff Smith) the bar may have been set unreasonably high for me for graphic novels/comics. <br/><br/>The setting is pretty interesting but I can see it wearing thin over time. We'll see. Still, I'll more likely than not continue to read these through to their end.
Review by val313
16/06/2015
This book has a lot of hype and gets rave reviews. Since I love fairy tales and fables I thought I would check it out. I like the idea of the story but was completely turned off by the sexuality. It's just not my cup of tea (especially Goldilocks and her relationship with Baby bear). It made me quit reading it halfway through. The artwork is incredible and the idea is creative. It was just too "adult" for my tastes. However, despite that I can see what the fuss was about.