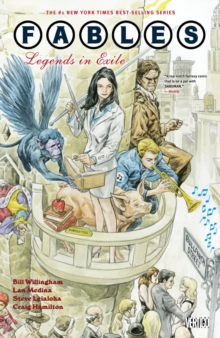 Fables TP Vol 01 Legends In Exile
Paperback
Description
When a savage creature known only as the Adversary conquered the fabled lands of legends and fairy tales, all of the infamous inhabitants of folklore were forced into exile.
Disguised among the normal citizens of modern-day New York, these magical characters have created their own peaceful and secret society within an exclusive luxury apartment building called Fabletown.
But when Snow White's party-girl sister, Rose Red, is apparently murdered, it is up to Fabletown's sheriff, a reformed and pardoned Big Bad Wolf, to determine if the killer is Bluebeard, Rose's ex-lover and notorious wife killer, or Jack, her current live-in boyfriend and former beanstalk-climber.
Information
Format: Paperback
Pages: 128 pages
Publisher: DC Comics
Publication Date: 06/10/2010
Category: Comics and Graphic Novels
ISBN: 9781401237554
Free Home Delivery
on all orders
Pick up orders
from local bookshops
Reviews
Showing 1 - 5 of 7 reviews.
Previous | Next
Review by Stewartry
09/10/2015
I wanted so badly to love this. I absolutely expected to. I've heard great things about Fables, especially with the popularity (and similarity) of the show Once Upon a Time. I love updated fairy tales. I love reconfigured tales. Heck, I love graphic novels.And I could get into the (rather OUaT-esque) concept of crossover or exile between the world where fairy tales are real and this world. It has a lot of scope, and using the idea in a murder mystery setting seemed like a great idea.But I hated it. I just hated it. The artwork was rather nice… but I loathed what was done with all of the characters. I disliked the apparent offensiveness for offensiveness's sake in the depiction of a couple of characters. (Also, of course, the feeling of "They're fairy tale characters! Let's make them swear and have sex! People will be shocked! It'll be great!")Most of all, I despised the "Ha-ha-fooled-you" trickery the plot indulged in; there's misdirection, and then there's outright lying, and by the end of this I had the nasty feeling I'd been lied to. There are ways and ways to mess with a reader, and this is not one I enjoy.
Review by Bert.Cielen
16/06/2015
What happens if creatures from fables, fairy tales and folklore are driven from their fantasy home and forced to survive in the "real world"...<br/><br/>The first book in this long-running series -- currently there are at least two dozen TPBs if you include the spin-offs -- is basically a riff on the murder mystery genre, in which Bigby Wolf (Big Bad Wolf in human form) investigates the apparent murder of Rose Red, Snow White's sister. Yes, that may sound silly, but it actually results in an entertaining story that along the way introduces just enough back story to keep you intrigued.
Review by Othemts
16/06/2015
Characters from fables and folklore have been forced out of their magical lands and forced to reside in New York, many disguising themselves to look like "mundane" humans. In this first story, Bigby Wolf (the anthropomorphized Big Bad Wolf) is the sheriff of Fabletown investigating the brutal murder of Rose Red, with the assistance/interference of her sister Snow White (who is deputy mayor). The story follows a basic police procedural routine leading up to a parlor room summation that is commented on within the story. The premise of Fables intrigued me, but as it is basically a detective story with requisite comic book gore thrown around, it didn't quite deliver. Still there are enough elements of a hidden past and hints of a greater story to make me want to try to read more.
Review by catya77
16/06/2015
In this collection of tales, graphic novel/comic style, fairy tale/fable characters have escaped to the mundane/human world for safety. In this Volume, Snow White's sister, Rose Red, is missing and possibly dead, Bigby Wolf (aka Big Bad Wolf) is on the case to investigate.The graphics are beautifully detailed to add depth to the story and characters. The story narrative is multi-layered with twists to the mysteries and the dynamic relationships of the characters. The relationships and the characters themselves grow as the story progresses. The story is rife with action, emotion, and humor.Overall, a fun read!
Review by randoymwords
16/06/2015
Another ongoing series that features unlikeable characters who constantly argue with each other. The only difference between this and a standard super-hero team book is in the set dressing.