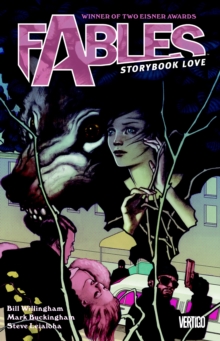 Fables TP Vol 03 Storybook Love
Paperback
Description
A new Softcover collecting the acclaimed FABLES #11-18, including the 4-part "Storybook Love." Also included are the 2-part "A Sharp Operator" and the single-issue tales "Bag o' Bones" and "Barleycorn Brides." Don't miss this amazing third collection, topped off with a stunning new wraparound cover by James Jean.
Information
Format: Paperback
Pages: 190 pages
Publisher: DC Comics
Publication Date: 01/05/2004
Category: Comics and Graphic Novels
ISBN: 9781401202569
Free Home Delivery
on all orders
Pick up orders
from local bookshops
Reviews
Showing 1 - 5 of 21 reviews.
Previous | Next
Review by pandoragreen
16/06/2015
Bit high on the graphic violence scale, some "naughty bits", and therefore not something you want to read with your in-laws peeking over your shoulders (a mistake I made). Otherwise, as always, Fables is excellent.
Review by Crowyhead
16/06/2015
This series always has a great mix of whimsy and the macabre, and I love how the various fairy tale characters are both actual people and true to their fairy tale past.
Review by JapaG
16/06/2015
Storybook Love is the third Fables book. So far we have met all the different fairy tale characters that have been driven from their homeland into our modern present. Most of the characters can take on human forms, but some are confined to the "farm".This book deals mostly in the subterfuge within the fables community, as a couple of characters try to overthrow the current leaders in order to start a venture to regain their homelands. The second major plot revolves around the almost-love of the fables in charge, Snow White and Big Bad Wolf (aka Bigby Wolf).Willingham has created a very believable cast of fairy tale characters with modern personalities. I especially like the lecherous Prince Charming, of whom we find more sides in this story.The art is suitingly over-the-top for the fairy tale characters. I also like how many of the female characters are made sexy, as most people wouldn't think of fairy tale characters in that way. :)
Review by abbylibrarian
16/06/2015
In the next installment of Fables, Bigby Wolf finds a reporter that's seemed to stumble onto their world. He has to be taken care of and Bluebeard steps up. Little does Bigby know that Bluebeard has further plans to do away with Snow White and Bigby and take over Fabletown. Another gripping installment in a very creative graphic novel series.
Review by TheDivineOomba
16/06/2015
This volume is a filler between the next and previous volumes. Its a set up for how Snow becomes pregnant, and how a new election in fabletown happens. This is the first volume that I really enjoyed reading. I liked seeing the beginning love of Snow and Bigby, and a couple of the stories fill in the history of how the Fables came to reside in New York City and the Fable Farm.