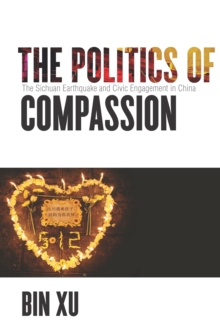 The Politics of Compassion : The Sichuan Earthquake and Civic Engagement in China
Paperback / softback
Description
The 2008 Sichuan earthquake killed 87,000 people and left 5 million homeless.
In response to the devastation, an unprecedented wave of volunteers and civic associations streamed into Sichuan to offer help.
The Politics of Compassion examines how civically engaged citizens acted on the ground, how they understood the meaning of their actions, and how the political climate shaped their actions and understandings.
Using extensive data from interviews, observations, and textual materials, Bin Xu shows that the large-scale civic engagement was not just a natural outpouring of compassion, but also a complex social process, both enabled and constrained by the authoritarian political context.
While volunteers expressed their sympathy toward the affected people's suffering, many avoided explicitly talking about the causes of the suffering-particularly in the case of the collapse of thousands of schools.
Xu shows that this silence and apathy is explained by a general inability to discuss politically sensitive issues while living in a repressive state.
This book is a powerful account of how the widespread death and suffering caused by the earthquake illuminates the moral-political dilemma faced by Chinese citizens and provides a window into the world of civic engagement in contemporary China.
Information
Format: Paperback / softback
Pages: 256 pages
Publisher: Stanford University Press
Publication Date: 22/08/2017
Category: Sociology
ISBN: 9781503603363
Free Home Delivery
on all orders
Pick up orders
from local bookshops