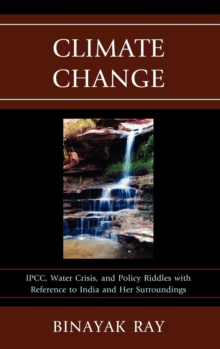 Climate Change : IPCC, Water Crisis, and Policy Riddles with Reference to India and Her Surroundings
Hardback
Description
Notwithstanding denials by climate-skeptics, the global scientific community considers the world environment is rapidly worsening.
They argue that failure to adopt measures to reduce CO2 gas emission in the atmosphere could lead to disastrous social-economic, politico-security and environmental consequences.
Skeptics argue that climate changes are due to nature's own cyclical phenomenon.
They fail to understand that climatology as a scientific discipline is in its infancy, but overwhelming evidence suggests that human activities are responsible for this.
Smart campaigning and some mistakes by the IPCC in its 2007 report enabled skeptics to derail the efforts to adopt a legally binding CO2 emission target in Copenhagen in 2009. Global political leadership collectively failed to rise above their narrow national interest in Copenhagen.
Last moment efforts led to a resolution, but a resolution without vision or teeth.
Given large socio-economic differences between countries, a legally binding CO2 reduction resolution is anathema to many countries.
The leadership failed to understand that "one size prescription would not fit all," as internal political compulsions dominate countries' policy position on climate change issues. South Asia is politically complex. The political and economic rivalry between China and India impacts differently on policy cooperation issues in regional countries, but on climate change issues policy response require a regional approach, as impacts do not stop at political boundaries.
Water sharing is critical for India, Pakistan, and Bangladesh.
India and Pakistan are virtually water scarce countries and most of Bangladesh's freshwater comes from outside the country.
These countries have been using groundwater at an unsustainable rate, and in many parts it requires treatment.
Collectively they house largest number of poverty stricken people on earth.
Food production is declining; rising food prices are creating a huge fiscal burden.
UN Millennium goals remain unachievable. Rising se
Information
Format:Hardback
Pages:260 pages
Publisher:Lexington Books
Publication Date:11/08/2011
Category:
ISBN:9780739164143