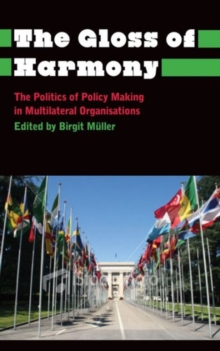 The Gloss of Harmony : The Politics of Policy-Making in Multilateral Organisations
Hardback
Description
The Gloss of Harmony focuses on agencies of the United Nations, examining the paradox of entrusting relatively powerless and underfunded organisations with the responsibility of tackling some of the essential problems of our time.
The book shows how international organisations shape the world in often unexpected and unpredictable ways. The authors of this collection look not only at the official objectives and unintended consequences of international governance but also at how international organisations involve collective and individual actors in policy making, absorb critique, attempt to neutralise political conflict and create new political fields with local actors and national governments. The Gloss of Harmony identifies the micro-social processes and complexities within multilateral organisations which have, up to now, been largely invisible.
This book will have wide appeal not only to students and academics in anthropology, business studies and sociology but also to all practitioners concerned with international governance.
Information
Format: Hardback
Pages: 280 pages
Publisher: Pluto Press
Publication Date: 08/10/2013
Category: Social interaction
ISBN: 9780745333755