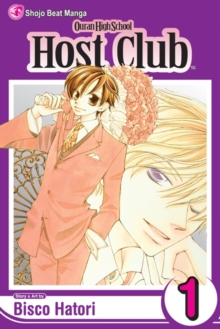 Ouran High School Host Club, Vol. 1
Paperback
Description
One day, Haruhi, a scholarship student at exclusive Ouran High School, breaks an $80,000 vase that belongs to the 'Host Club', a mysterious campus group consisting of six super-rich (and gorgeous) guys.
To pay back the damages, she is forced to work for the club, and it's there that she discovers just how wealthy the boys are and how different they are from everybody else.
Information
Format: Paperback
Pages: 184 pages
Publisher: Viz Media, Subs. of Shogakukan Inc
Publication Date: 01/07/2005
Category: Manga
ISBN: 9781591169154
Free Home Delivery
on all orders
Pick up orders
from local bookshops
Reviews
Showing 1 - 5 of 7 reviews.
Previous | Next
Review by rayechu
16/06/2015
The premise of the story is that Haruhi Fujioka is a scholarship student at a very elite private school. One day Haruhi is looking for a quiet place to sit and read and accidentally stumbles upon the "Host Club". While trying to make a hasty retreat, Haruhi accidentally knocks over a 8 million yen vase. To pay back the debt Haru-chan agrees to a variety of punishments- from being the host club's dog to becoming a host and getting 1,000 customers. The first volume follows the adventures of the host club through a Christmas party, tropical getaway, bullies, and an amateur film. Extras include a bonus chapter about Hunny's bun-bun and a small character gallery with full page illustrations and profiles for each host member. The characters, while following the general stereotypes (the serious one, the cute one, the wacky one) seem to have a potential for more. The situations and the dialogue between the characters are done very well. I like it when a manga makes me laugh out load, and I did several times reading this. According to the information in the booklet this is the author's break out manga. You can tell that she still needs some practice on things. Some faces are contorted, which would normally not be so noticeable. However to make the twins exactly alike, many times the images of the twins appear to be one image flipped and facing the other image. When the artwork is flipped you can see some of the mistakes in proportion. Also compared to the later chapters, the first chapter has a large amount of grey-tone and seems much more jumbled.
Review by tiamatq
16/06/2015
When scholarship student Haruhi steps into the supposedly unused music room, hoping to get some studying done, she discovers the Ouran High School Host Club. The club entertains female students with teas, parties, conversation, and lots of drama. They also happen to think that Haruhi is a boy and, when she accidentally break an $80,000 vase, they demand that she repay them by working for the club. I liked this manga, but it took me awhile to get into it. It's goofy, manic, and a little confusing, but I think that as the first volume goes on, the characters get nailed down and are a bit more defined. There's a great moment where a fangirl is "casting" each member of the club in their stereotype. Haruhi isn't quite what I expected... she's tough, capable of holding her own, and sees through a lot of the acts in the club. I'm not all that attached as of yet, but we'll see how I feel about the next volume.
Review by nmhale
16/06/2015
I bought this one on a whim, as I do with so many of my manga series, because it reminded me of Hana Kimi. How wrong I was! Aside from the cross dressing plot device, the tones of those two series are quite different. Whereas Hana Kimi is a funny yet melodramatic love story, Ouran is an outrageous comedy that has just touches of the serious. This book actually made me laugh out loud many times. The characters are so over the top, but they're meant to be that way, those abnormally rich and gorgeous boys. The main character, Haruhi, who has to pretend to be a boy and be a part of their geisha-like club in order to pay off a debt she owes them, is our straight man. She is boggled at the lavish waste and over-production, she provides the side commentaries that let us know the audience is supposed to be aware of just how ridiculous it all is. And just as she can't help being endeared to the others, we can't help falling in love with them all. This series was a real winner with me.
Review by collingsruth
16/06/2015
The art is really cramped and overly waif-y. The translation wasn't great, but the jokes aren't well timed. Better off watching the anime, it has a tighter storyline and greater visual appeal.
Review by EricPatterson
16/06/2015
While this pretty much plays out like the Anime offshoot it was great to read. I enjoyed it and the story because it is just one of those goofy fun reads where you don't care what is happening so much to the characters because you know it is just going to be something zany. The thing is while it is zany there is always this sense of compassion, heart, and soul that is felt within all of the characters. I truly admire what Hatori has been able to do with this particular series. I can't wait to read the next volume.
Also in the OURAN HIGH SCHOOL series | View all