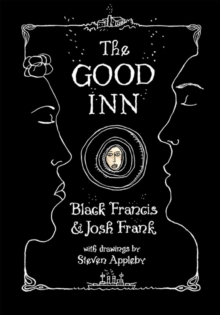 Description
From Pixies frontman Black Francis, in collaboration with writer Josh Frank and artist Steven Appleby, comes The Good Inn, a bold and visually arresting novel about art, conflict, and the origins of a certain type of cinema.In 1907, the French battleship Iena was destroyed when a nitrocellulose-based weapon propellant it was carrying became unstable with age and self-ignited, killing 120 people.
A year later, La Bonne Auberge became the earliest-known pornographic film, depicting an intimate encounter between a French soldier and an innkeeper's daughter.
Like all films at the time, and for decades afterwards, it was made with a highly combustible nitrocellulose-based film stock.
Loosely based on historical events, The Good Inn follows the lone survivor of the Iena explosion as he makes his way through the French countryside.
He falls into a strange love affair with an innkeeper's daughter and, even more deeply, into a volatile counter-universe where war and art exist side by side.But The Good Inn is also the very real story of the people who made the world's first pornographic film. Francis and Frank weave together real historical facts to re-create this lost piece of history, as seen through the eyes of a shell-shocked soldier who finds himself that film's subject and star.
Through his journey we explore the power of memory, the simultaneously destructive and restorative power of light, and how the early pioneers of pornography helped shape the film industry for generations to come.
Information
Format: Hardback
Pages: 152 pages, Colour
Publisher: SelfMadeHero
Publication Date: 01/05/2014
Category: Lliterary & memoirs
ISBN: 9781906838867
Free Home Delivery
on all orders
Pick up orders
from local bookshops