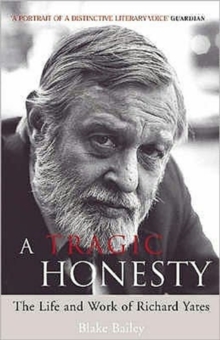 A Tragic Honesty : The Life and Work of Richard Yates
Paperback / softback
Description
Tragically ignored during his lifetime, Richard Yates was the great nearly man of American letters, despite producing some of the most bewitching fiction of the late twentieth century, and inspiring writers like Richard Ford, Andre Dubus, and Richard Russo.
Born in 1926, his youth was an hysterical odyssey through depression era America with an unstable mother who would become the basis for several of his most memorable characters.
His adult life was scarred by alcoholism, divorce, mental illness and bitterness at his lack of public recognition.
Yates always teetered on the edge of some fresh calamity: he chain-smoked through bouts of tuberculosis and emphysema, even when permanently chained to oxygen cylinders, and burned down his own apartment at least once.
However, the chaos of Richard Yates' personal life fed directly into his unflinching portraits of American middle-class desperation, leading him to write "Revolutionary Road", the novel that made his reputation, "The Easter Parade", and his extraordinary short fiction.
Blake Bailey's absorbing biography is the story of an unlikely triumph salvaged from the wreckage of an unruly life.
Information
Format: Paperback / softback
Pages: 680 pages
Publisher: Methuen Publishing Ltd
Publication Date: 12/01/2006
Category: Biography: literary
ISBN: 9780413774330