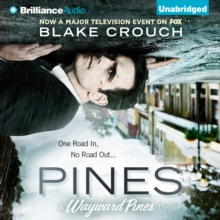 Please note: eAudiobooks can only be purchased with a UK issued credit card.
Description
The one-million copy bestseller that inspired the Fox TV show.
Secret service agent Ethan Burke arrives in Wayward Pines, Idaho, with a clear mission: locate and recover two federal agents who went missing in the bucolic town one month earlier. But within minutes of his arrival, Ethan is involved in a violent accident. He comes to in a hospital, with no ID, no cell phone, and no briefcase. The medical staff seems friendly enough, but something feelsoff. As the days pass, Ethans investigation into the disappearance of his colleagues turns up more questions than answers. Why cant he get any phone calls through to his wife and son in the outside world? Why doesnt anyone believe he is who he says he is? And what is the purpose of the electrified fences surrounding the town? Are they meant to keep the residents in? Or something else out? Each step closer to the truth takes Ethan further from the world he thought he knew, from the man he thought he was, until he must face a horrifying facthe may never get out of Wayward Pines alive.
2013 International Thriller Award Nominee
Information
Format: eAudiobook MP3
Run-time: 8 hours 32 mins
File size: 353.69MB
Publisher: Brilliance Audio
Publication Date: 21/08/2012
Category: Thriller / suspense
ISBN: 9781469216157
Other Formats
Paperback / softback from £7.65
Paperback from £8.49
Download and listen
eAudiobook