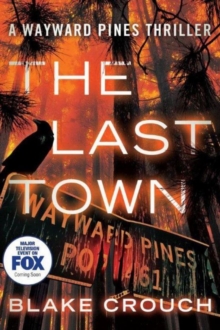 Description
The third book in the Wayward Pines Series-now a Major Television Event from executive producer M. Night Shyamalan, starring Matt Dillon Thursdays on FOX or catch up on Amazon Instant Video.
Secret Service agent Ethan Burke arrived in Wayward Pines, Idaho, three weeks ago. In this town, people are told who to marry, where to live, where to work. Their children are taught that David Pilcher, the town's creator, is god. No one is allowed to leave; even asking questions can get you killed.
But Ethan has discovered the astonishing secret of what lies beyond the electrified fence that surrounds Wayward Pines and protects it from the terrifying world beyond. It is a secret that has the entire population completely under the control of a madman and his army of followers, a secret that is about to come storming through the fence to wipe out this last, fragile remnant of humanity.
Blake Crouch's electrifying conclusion to the Wayward Pines Series-now a Major Television Event Series debuting Summer 2015 on FOX-will have you glued to the page right down to the very last word.
Information
Format: Paperback
Pages: 306 pages
Publisher: Amazon Publishing
Publication Date: 15/07/2014
Category: Crime & mystery
ISBN: 9781477822586
Free Home Delivery
on all orders
Pick up orders
from local bookshops
Reviews
Showing 1 - 5 of 6 reviews.
Previous | Next
Review by Cherylk
16/06/2015
I have never read the other books in this series. In fact, if I had known this was the last book in the Wayward Pines series, then I might not have picked this book up. Even though I have not read the prior novels, I really enjoyed this book. Actually, I read this book in one day. I could not stop reading. I got a good idea about what this series is about after the first part. Those abbies are one scary mother f**kers. Also what I found nice about this book and I say it is all because of the author but I connected with Ethan and the other townsfolk. This does not always happen when reading the last book or even jumping into the middle of a series. I really liked this. Davis is just as evil as the abbies. I do plan to go back and check out the prior novels. I cannot wait to see the television series on Fox this summer.
Review by grumpydan
16/06/2015
This if the third book in the Wayward Pines trilogy and I didn't think Blake Crouch could fill another book after the suspenseful ending to the previous book. Yet, he did, with yet another explosive story about the residents of Wayward Pines and how Ethan Burke must deal with revealing the truth to these unsuspecting citizens. When all havoc breaks loose, everyone scrambles to save themselves. Part science fiction, part horror but one hundred percent suspenseful.I have read and reviewed many of Blake Crouch's books and he always amazes me with is stories. Certainly one of my favorite authors. I am looking forward to watching the adaptation when it comes to television.
Review by Darcia
16/06/2015
The Last Town is the final book in The Wayward Pines trilogy. While the first two have more of a suspense/thriller feel, this one leans heavily into post-apocalyptic horror. In place of the unexpected twists, we have a lot of terror and bloodshed. The action is nonstop, leaving no room to take a breath. Underlying all the madness is the issue of true democracy. Do we have the right to choose our individual fate or should a select few decide what information we're given based on what is best for humanity? Crouch handles this well, showing us how easily power corrupts even the most well-intentioned among us. This is a quick read, though not a light read. I felt the heavy weight of misery throughout, searching for, along with the characters, a glimpse of hope within the chaos. Crouch has the ability to place us right in the story, which is what I love about his writing. But his skill also left me feeling bleak. After reading the last words, I craved something light and happy to lift me out of Wayward Pines. Crouch did his job superbly in that respect, though I'd caution readers not to pick this up if you're feeling depressed.I'm ambivalent about the ending. I don't want to say why, because I don't want to give even the hint of a spoiler. While I understand what Crouch went for, I'm just not sure I buy into it. Still, this is a thought-provoking, thriller ride of a series. I'm looking forward to seeing if the TV miniseries lives up to Crouch's writing.This series should be read in order, from start to finish, in order to enjoy the full impact. Crouch does a good job of filling in some of the back story, but I'm not sure this would work well as or is intended to be a stand-alone read.* I was given a free, advanced copy for my unbiased review. *
Review by clark.hallman
16/06/2015
The Last Town (Wayward Pines #3) by Blake Crouch – This is the final book in Blake Crouch's terrific Wayward Pines trilogy and it provides an incredibly action-packed, explosive conclusion to the series. Survival in the town is a desperate struggle because of the actions of unethical leadership and the evil vicious monsters that surround the walled community. The residents of the town must carefully live by the rules of the community or the consequences could be dire. The sheriff, Ethan, must keep the citizens under control and walk a strict line, while treading lightly, to please the creator of the community. However, unbounded human emotions, including pride and especially fear, in a ruthless violent environment, can ruin even the most carefully planned, strongly controlled and fiercely defended communities. This is an amazing trilogy and its conclusion is astoundingly satisfying.
Review by buffalogr
16/06/2015
Staccato read....the future brings an exciting mix of love triangles, survival strategies, vengeance and tension. Our hero, Ethan, organizes a resistance to a self appointed God figure. This will make a fine TV show.