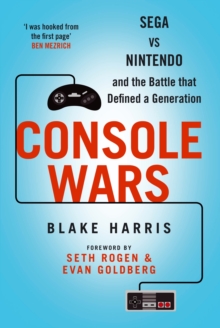 Console Wars : Sega vs Nintendo - and the Battle That Defined a Generation
Paperback
Description
In 1990 Nintendo had a virtual monopoly on the video game industry.
Sega, on the other hand, was a faltering arcade company with big aspirations and even bigger personalities.
But that would all change with the arrival of Tom Kalinske, a man who knew nothing about video games and everything about fighting uphill battles.
His unconventional tactics, combined with the blood, sweat and bold ideas of his renegade employees, transformed Sega and eventually led to a ruthless David-and-Goliath showdown with rival Nintendo.The battle was vicious, relentless and highly profitable, eventually sparking a global corporate war that would be fought on several fronts: from living rooms and schoolyards to boardrooms and Congress.
It was a once-in-a-lifetime, no-holds-barred conflict that pitted brother against brother, kid against adult, Sonic against Mario, and the US against Japan.Console Wars is the underdog tale of how Kalinske miraculously turned an industry punchline into a market leader.
It's the story of how a humble family man, with an extraordinary imagination and a gift for turning problems into competitive advantages, inspired a team of underdogs to slay a giant and, as a result, birth a $60 billion dollar industry.
Information
Format: Paperback
Pages: 576 pages, 1x8pp colour
Publisher: Atlantic Books
Publication Date: 07/08/2014
Category: Biography: business & industry
ISBN: 9781782395270
Free Home Delivery
on all orders
Pick up orders
from local bookshops
Reviews
Showing 1 - 1 of 1 reviews.
Review by drmaf
10/11/2015
To tell the truth, this book left me cold. Not because it was badly written, far from it, but because as a long-time PC gamer, I regard consoles as toys, and nothing I read in this book did anything to alter that viewpoint. Basically it is the story of How Tom Kalinske took Sega of America from a struggling arcade game company to a giant that briefly toppled Nintendo from its seemingly unassailable position at the top of the home console tree, through a mixture of catchy slogans, edgy advertising and Sonic the Hedgehog, and then saw it all slip away due to intransigence by the Japanese parent company and a dual onslaught from Nintendo and Sony. The book is fast-moving, quirky, strongly oriented to the personalities rather than the technology, all around a good read if like me, you love games and gaming. However, the utter childishness of some of the activities by supposedly grown adults to bring down or denigrate their competitors is not edifying, and you can never really forget that this is basically dealing with children's toys. Unfortunately the book's rather abrupt ending is a minus, its a pity Harris didnt include an epilogue detailing the story since, when Sony and Microsoft have reduced Nintendo itself to a second-rate player in the console industry, which would have put the end of Sega into some sort of perspective. A great read, but it not going to change the opinion I and other hard-core PC gamers hold about consoles.