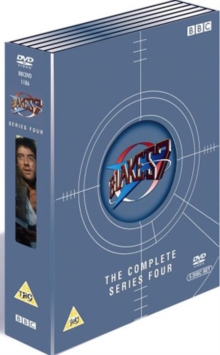 Blake's 7: Season 4 (Box Set)
DVD
Description
The entire fourth, and final, season (remastered) of the 1970s BBC sci-fi series created by Terry Nation. 'Rescue' sees the crew rescued from the planet Terminal by a mysterious stranger, whose plan is later revealed when they arrive on Xenon.
In 'Power', the crew struggle to get to the spaceship Scorpio, and are joined by Soolin. 'Traitor' sees Avon making the discovery that Servalan is still alive, and using a pacifying drug to subdue the planet Helotrix.
In 'Stardrive', the crew need to replace Scorpio's main drives, necessitating a visit to the lair of the Space Rats. 'Animals' sees Dayna captured by Servalan while attempting to attract new recruits to the fight against the Federation.
In 'Headhunter', Avon sets out to recruit a cybernetics genius, but ends up with a crazed killer android. 'Assassin' sees the crew under threat from an assassin called Cancer, and nobody knows what he looks like.
In 'Games', the crew of Scorpio must play a series of deadly games to obtain a rare energy crystal. 'Sand' sees Tarrant stranded with Servalan on a remote planet.
Romance is soon in the air, but so is deadly killer sand.
In 'Gold', the Scorpio crew fall into a trap set by Servalan when they attempt to steal a valuable cargo. 'Orbit' sees a Federation scientist offer Avon the ultimate weapon, in return for Orac.
In 'Warlord', Avon attempts to establish an anti-Federation alliance, but can he rely on the man he has chosen as a figurehead, warlord Zukan? And finally, 'Blake' sees Avon forced to seek a new leader for the floundering alliance.
There is only one man for the job, of course: Roj Blake, now working as a bounty hunter on the planet Gauda Prime.
Information
Format:DVD
Region:2
Certification:(12)
EAN:5014503118624
Catalogue number:BBCDVD1186
Studio:2 Entertain
Release date:24/04/2006
Genre:Science Fiction
Colour:Colour
Also directed by Mary Ridge